Overview:
Brief Introduction to Flotation Cell:
Flotation machine is used to separate non-ferrous black metal (like copper, zinc, lead and gold) and nonmetal like fluorite and talc. Flotation machine is an indispensable machine in beneficiation plant, and flotation cell is a very important part of flotation machine.
Flotation Principle of Beneficiation Plant
In the flotation machine, the pulp after processed by adding in agentia makes air inflation by mixing to make some ore particle stick to the bubble. Float to the surface of the pulp and being scraped to make bubble product and the rest are in the pulp to achieve separation. Flotation cells are in various types and the most common type is mechanical mixing flotation machine.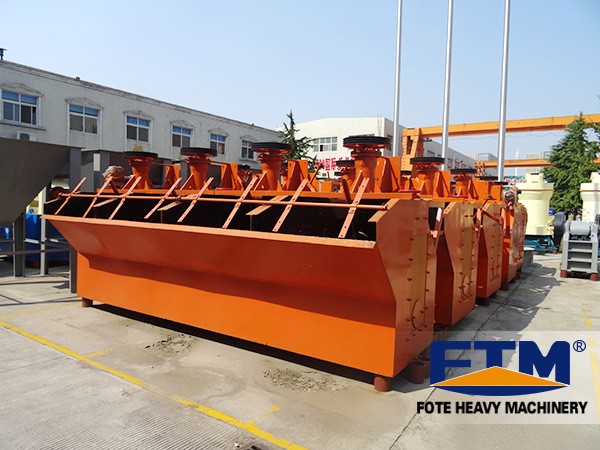 Flotation Process
Flotation process is same with other beneficiation process. Make full preparation of materials before beneficiation. Before the flotation, ore should be crushed, classified, ground to qualified particle size.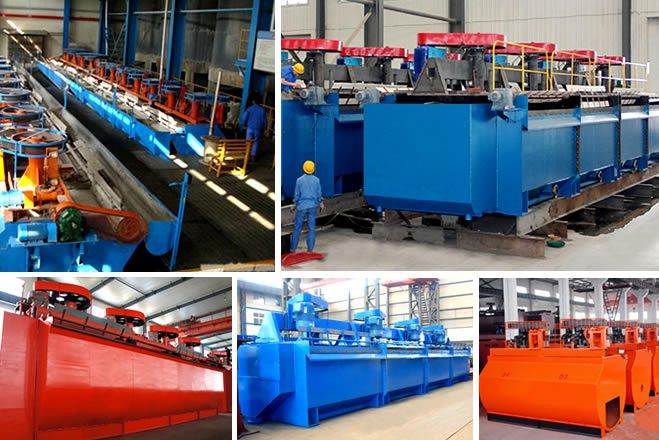 Advantages of Flotation Machine
1. High precision,
2. Large capacity,
3. Lost costs,
4. Easy maintenance,
5. High adaptability to coal.
6. Small footprint and save construction cost.
7. Simple operation; high automatic.
8. Light weight.
Technical data:
Category
Specification
Model
Effective
cubage
(m³)
Processing
capacity
(m³/min)
Main shaft loam board
Dimensions
(L×W×H)
(m)
Single
trough
Weight
(t)
Power
(kw)
Rotate
speed
(r/min)
Rotate
speed
(r/min)
Power
(kw)
XJK type
flotation
machine
XJK-0.35
0.35
0.18-0.4
1.5
483
25
1.1
0.7×0.7×0.7
0.5
XJK-0.62
0.62
0.3-0.9
3.0
400
25
1.1
0.90×0.82×0.85
1.0
XJK-1.1
1.1
0.6-1.6
5.5
330
25
1.1
1.1×1.1×1
1.4
XJK-2.8
2.8
1.5-3.5
11
280
25
1.1
1.75×1.6×1.1
2.5
XJK-5.8
5.8
5-7
22
240
25
1.5
2.2×2.2×1.2
3.6
SF type
flotation
machine
SF-0.37
0.37
0.2-0.4
1.5
386
25
1.1
0.7×0.7×0.75
0.5
SF-0.7
0.7
0.3-0.9
3
400
25
1.1
0.9×0.82×0.95
1.0
SF-1.2
1.2
0.6-1.6
5.5
330
25
1.1
1.1×1.1×1.1
1.9
SF-2.8
2.8
1.5-3.5
11
268
25
1.1
1.75×1.6×1.15
2.6
SF-4
4
2-4
15
220
25
1.5
1.85×2.05×1.2
2.9
SF-8
8
4-8
30
191
25
1.5
2.2×2.9×1.4
4.2
SF-10
10
5-10
30
191
25
1.5
2.2×2.9×1.7
4.5
SF-20
20
5-20
30×2
191
25
1.5
2.85×3.8×2
9.9
JJF type
flotation
machine
JJF-2
2
1-3
7.5
443
25
1.5
1.4×1.4×1.1
1.7
JJF-4
4
2-4
11
305
25
1.5
1.6×2.15×1.25
2.4
JJF-8
8
4-8
22
233
25
1.5
2.2×2.9×1.4
4.5
JJF-10
10
5-10
22
233
25
1.5
2.2×2.9×1.7
4.9
JJF-16
16
5-16
30
180
25
1.5
2.85×3.8×1.7
8.0
JJF-20
20
5-20
37
180
25
1.5
2.9×3.8×2.0
10.5