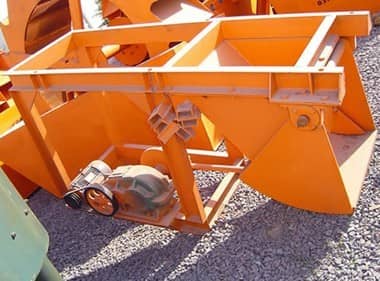 Pendulum Feeder
Product size: 400×400 - 600×600
Swing times (time / min-1): 47 - 45.8
Discharge opening Width (mm): 400-600
Max. Feeding Size (mm): 35-50
Note: You can contact us by sending us an email or clicking on the button below.
Overview:
Brief Introduction to Pendulum Feeder
Pendulum feeder is suitable for mineral processing, coal, chemical industry and other industries. Pendulum feeder carries the particle materials from the storage cabin to various types of materials receiving devices. Pendulum feeder is not suitable to convey dry powder material or materials with too large particle size otherwise there will be powder pollution or the discharge mouth will be blocked.
Fote Machinery is a famous pendulum feeder manufacturer in China. Pendulum feeder price is quite reasonable and the quality is guaranteed. You can send us an e-mail or leave a message to know more information.
Characteristics of Pendulum Feeder
Feeding quantity can be adjusted in these ways: adjust the eccentric distance of the eccentric pin on the eccentric wheel, changing the length that pendulum plate moves and adjusting the feeding quantity in a wider range. Adjust the height of discharge mouth flashboard to change the size of discharge mouth to make accurate adjustment of feeding quantity.
Working Principle of Pendulum Feeder
Triangle reducer of the pendulum feeder forces the motor reduce speed and the speed-reduced powder is delivered to eccentric wheel of which eccentric distance is adjustable. Then the bottom plates moves driven by the motor through eccentric wheel and rod moves back and forward so that the ore in the cavity will be delivered into the feeder again and fed evenly to ensure the material feeding for ball mill.
Technical data:
Product Size
Processimg Capacity(t/h)
Motor Power
(kw)
400×400
0-12
1.1
600×600
3-25
2.2