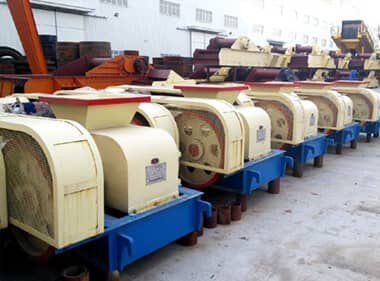 Roller Crusher
Roller diameter (mm): 400 - 700
Max. feeding size (mm): ≤25 - ≤100
Capacity (t/h): 5-10 to 10-100
Roller rotation speed (r/min): 75 - 180
Total weight (t): 2.2 - 9.8
Note: You can click on the button below to get a quote.
Overview:
Structure Diagram of Roller Crusher
Working Principle of Roll Crusher
Fote series roll crusher is mainly composed of roller, roller supporting bearing, pressing and adjusting device and motor device.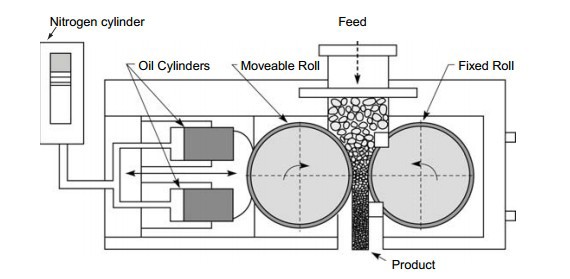 Adjustment of discharge particle size: There is wedge-shape or gasket adjusting device between the two rollers and it can control the particle size. We will arrange the professionals to guide the installation and debug the equipment.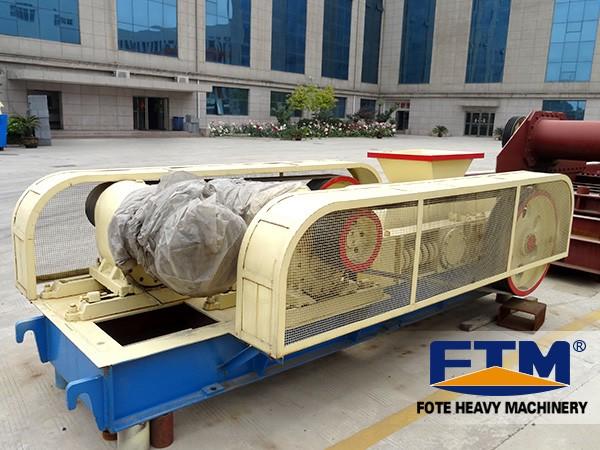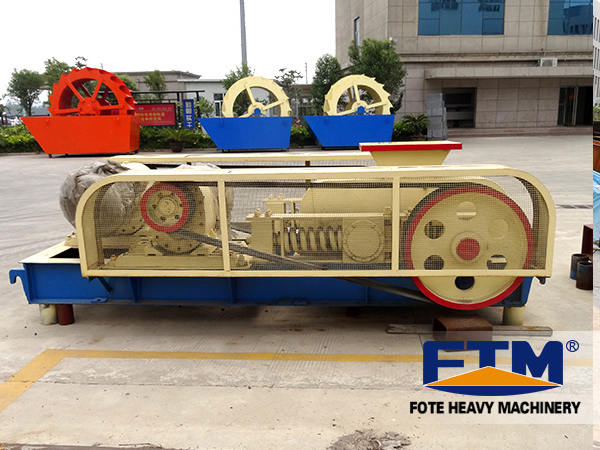 Application Range of Double Roller Crusher
Double roller crusher is suitable for brittle materials coarse or middle crushing in cement, chemical, electricity, mining, metallurgy, building materials, refractory materials, coal mine and other industries. The feeding particle size is large and the discharge particle size is adjustable. For coal industry, the raw coal crushed by this machine can be directly crushed after being de-iron and de-impurity. After being crushed, the materials have uniform particle size and low over-crushing rate so that it simplifies the coal separation process and save the costs.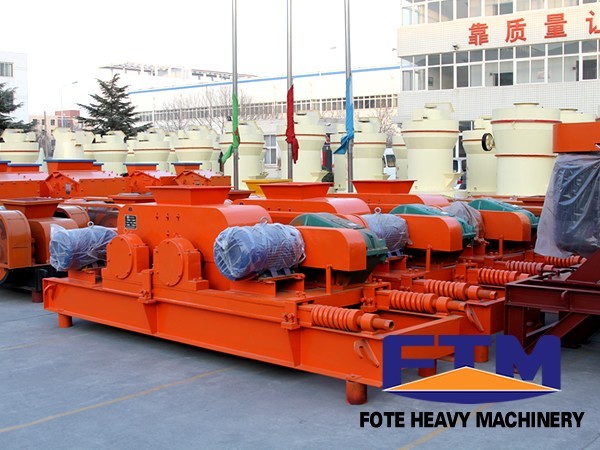 Special Remarks:
1. Strengthen de-iron work. Non-breaking materials (such as metal objects) fall into the double rollers can damage the crusher, resulting in accident. Iron removing device should be installed.
2. Viscous materials can easily plug the broken spaces. When dealing with plug trouble, stop the machine. Do not stab the mine when the machine is running..
3. When processing materials containing bulk, pay attention that the bulk may be squeezed out from the crushing space in case any injuries or damage to equipment.
About Fote:
Fote is a famous double roller crusher manufacturer in China. The products have high quality and perfect service. Roll crusher price is quite reasonable and the quality is guaranteed. You can send us an e-mail or leave a message to get more information about the equipment.
Technical data:
| | | | | | | | |
| --- | --- | --- | --- | --- | --- | --- | --- |
| Model | 2PG0425 | 2PG0640 | 2PG0740 | 2PG0850 | 2PG1060 | 2PG1260 | 2PG1560 |
| Roller diameter(mm) | Ф400 | Ф600 | Ф700 | Ф800 | Ф1000 | Ф1200 | Ф1500 |
| Roller width(mm) | 250 | 400 | 400 | 500 | 600 | 600 | 600 |
| Input Size(mm) | ≤25 | ≤25 | ≤25 | ≤25 | ≤30 | ≤30 | ≤30 |
| Discharging Gate(mm) | 2-8 | 2-8 | 2-8 | 2-8 | 2-10 | 2-10 | 2-10 |
| Processing capacity(t/h) | 5-10 | 10-20 | 15-30 | 20-40 | 30-50 | 40-70 | 60-110 |
| Power Models | Y132M-6 | Y180L-6 | Y200L-4 | Y225M-4 | Y250M-4 | Y315M-6 | Y315L-6 |
| Motor power(kw) | 5.5×2 | 15×2 | 30×2 | 45×2 | 55×2 | 75×2 | 110×2 |