Overview:
Brief Introduction to Rotary Kiln
Rotary kiln is also known as calcining kiln, belonging to building material equipment. According to the difference of processed material, rotary kiln can be classified into cement rotary kiln, metallurgy chemical kiln, and lime rotary kiln. Cement kiln is mainly used to roast cement clinker and can be classified into dry-type cement kiln and wet-type cement kiln.
Classification of Rotary Kiln
Metallurgy chemical kiln is mainly used for magnetizing roast in metallurgy industry, iron and steel plant and lean iron ore; oxidizing roasting for chromium, nickel and iron ore; roasting high alumina bauxite ore in refractory material factory; roasting clinker and aluminium hydroxide in aluminium factory; and roasting chrome ore in chemical factory. Lime kiln is used for roasting active lime and light roasting dolomite for steel factory and ferroalloy works.

Application of Rotary Kiln in Metal Industry
Rotary kiln is used in non ferrous and black metallurgy to roast Iron, aluminum, copper, zinc, tin, nickel, tungsten, chromium, file and other metals. In addition, rotary kiln is used to roast the ore, concentrate and tertium quid.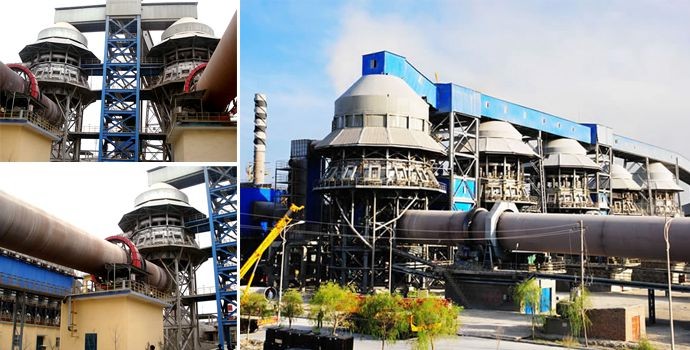 Working Process of Rotary Kiln
1. Rotary kiln mainly consists of rotary drum, supporting device, wheeled supporting device, sealing device for head and end of the kiln, coal-injection duct and others.
2. Kiln body is a certain angle to the horizon and the whole kiln is supported by the supporting device and the wheeled device can fix the position of kiln.
3. Except the main conveying device, there is also assistant conveying device in the conveying part to ensure that the kiln can still moves slowly even when power off to avoid the deformation of kiln. The head of the kiln adopts cover-type sealing and the end of the kiln uses the axial contact sealing device which insures the reliability of sealing.
4. Working temperature reaches 950℃-1050℃can roast superfine Kaolin. In the process of processing the Taoli sand, temperature can be adjusted according to different materials to achieve the effect. This kind of toasting technology testified to be energy saving, and the product has high quality and stable performance.
Technical data:
Product
Specification
(m)
Kiln dimensions
Motor
power
(kw)
Total
weight
(t)
note
Diameter
(m)
Length
(m)
Obliquity
(%)
Capacity
(t/d)
Rotation
speed
(r/min)
Φ2.5×40
2.5
40
3.5
180
0.44-2.44
55
149.61

-----

Φ2.5×50
2.5
50
3
200
0.62-1.86
55
187.37
-----
Φ2.5×54
2.5
54
3.5
280
0.48-1.45
55
196.29

outside

disassemble

kiln

Φ2.7×42
2.7
42
3.5
320
0.10-1.52
55
198.5
------
Φ2.8×44
2.8
44
3.5
450
0.437-2.18
55
201.58

outside

disassemble

kiln

Φ3.0×45
3
45
3.5
500
0.5-2.47
75
210.94
------
Φ3.0×48
3
48
3.5
700
0.6-3.48
100
237

outside

disassemble

klin

Φ3.0×60
3
60
3.5
800
0.3-2
100
310
------
Φ3.2×50
3.5
50
4
1000
0.6-3
125
278

disassemble

klin

Φ3.3×52
3.3
52
3.5
1300
0.266-2.66
125
283

kiln with

preheater

precalcine

Φ3.5×54
3.5
54
3.5
1500
0.55-3.4
220
363

kiln with

prehrater

precalcine

Φ3.6×70
3.6
70
3.5
1800
0.25-1.25
125
419

Generating

klin for

usimg ofterheat

Φ4.0×56
4
56
4
2300
0.41-4.07
315
456

klin with

prehrater

precalcine

Φ4.0×60
4
60
3.5
2500
0.396-3.96
315
510

klin with

prehrater

precalcine

Φ4.2×60
4.2
60
4
2750
0.41-4.07
375
633

klin with

prehrater

precalcine

Φ4.3×60
4.3
60
3.5
3200
0.396-3.96
375
583

klin with

prehrater

precalcine

Φ4.5×66
4.5
66
3.5
4000
0.41-4.1
560
710.4

klin with

prehrater

precalcine

Φ4.7×74
4.7
74
4
4500
0.35-4
630
849

klin with

prehrater

precalcine

Φ4.8×74
4.8
74
4
5000
0.396-3.96
630
899

klin with

prehrater

precalcine

Φ5.0×74
5
74
4
6000
0.35-4
710
944

klin with

prehrater

precalcine

Φ5.6×87
5.6
87
4
8000
Max4.23
800
1265

klin with

prehrater

precalcine

Φ6.0×95
6
95
4
10000
Max5
950×2
1659

klin with

prehrater

precalcine