Overview:
Brief Introduction of Sawdust Dryer
Sawdust dryer is a type of special equipment made for drying sawdust, so it is always called sawdust dryer machine or sawdust drying machine. Sawdust dryer can conduct both drying and cooling and save more energy than common dryers to save the cost mostly. Sawdust dryer machine is mainly used to dry large particle materials like ore powder, coal slurry, and coal sawdust in sawdust, vinasse slag, rice husk and other industries.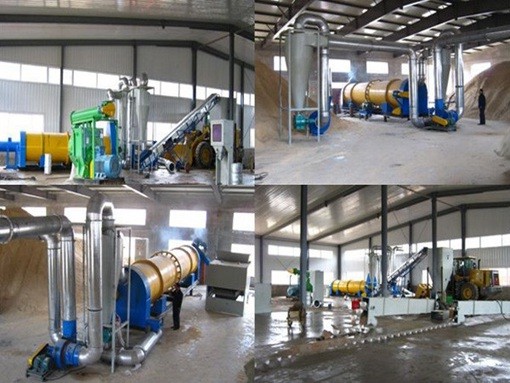 Working Principle and Cost of Sawdust Dryer
Common dryers usually use coal or wood as heat resource which demands high desenity of larbour and high cost. In addition, large thermal efficiency loss makes the heat utilization of sawdust dryer machine less than 30%. Usually the material of which water content is 35% should be dried for 3-4times. However, sawdust dryer machine can dryer the material of which water content is 35% successfully for one time and save energy by 75%, greatly reducing the costs. The gas of sawdust dryer machine is from coking furnace in which methane gas is generated for dryer. All in all, the cost can save thousands Yuan per year.
Application Range of Sawdust Dryer Machine
Fuel gas dryer is suitable to dry large particle materials or with large quantity like ore, blast furnace slag, coal, metal powder, phosphate fertilizer, ammonium sulphate and other materials in Chemical industry, mining, metallurgy, etc. What's more, it can used to dry powder materials with particular demand and particle materials like HP foaming slag, lees, light calcium carbonate, active white earth, magnetic powder, graphite, and medical slag.
Fote Machinery is a famous sawdust dryer manufacturer. There are various dryers like sawdust dryer for sale. The products made in Fote all have high quality and reasonable price. You can leave a message or send us an e-mail to get more information. We'll always at your service.
Technical data:
Model(m)
Production capacity(T/H)
Main notor
Main reducer
Weight(T)
Power(KW)
Type
Type
Velocity ratio
Φ1.2×10m
2.5
7.5
Y160M-R3
ZL50-16-I
---
13.5
Φ1.5×12m
3.3-4.9
10
Y160L-6-B3
JZQ500-Ⅲ-2F
---
18.9
Φ1.5×15m
4-6
18.5
Y200L1-6
JZQ500-Ⅲ-2F
---
21
Φ1.8×12m
4-6
18.5
Y160L-6
ZQ50-16Ⅱ-2
16.46
23
Φ2.2×12m
7-12
18.5
Y200L7-6
JZQ650-Ⅲ
31.5
38
Φ2.2×14m
7-12
22
Y200L7-6
JZQ650-Ⅲ
31.5
40
Φ2.2×16m
12
30
Y225M-6
JZQ750-Ⅲ
31.5
45
Φ2.4×14m
12
30
Y250M-6
JZQ750-Ⅲ
31.5
51
Φ2.4×18m
10-13
37
Y250M-6
ZL85-13-I
27.16
54
Φ2.4×20m
10-14
37
Y250N-6
ZL85-13-I
27.16
55
Φ3×20m
25
55
Y250M-4

ZL100-16-I
41.52
78
Φ3×25m
32-36
75
YR280M-4
ZL100-16-I
41.52
105