Overview:
Brief Introduction
Slag dryer, slag drying machine or granulating slag dryer is widely used in building materials, metallurgy, mineral processing, chemical industry, cement, and other industries to dry slag, carbide slag, river sand, quartz sand, limestone, clay, water slag and other materials.
Slag dryer is adaptable for many combustion furnaces like high temperature fluidized stove, the grinding powder coal furnace and artificial coal stove.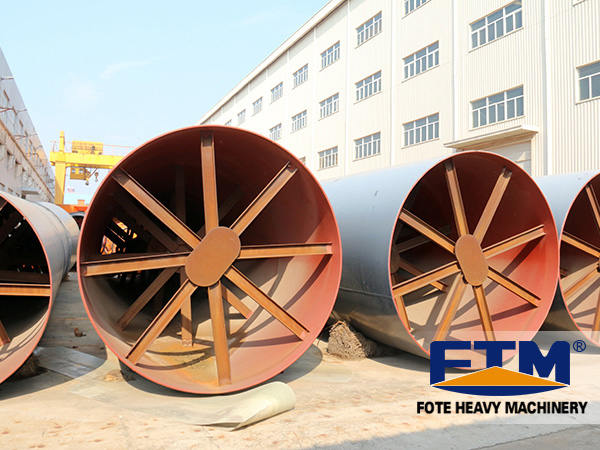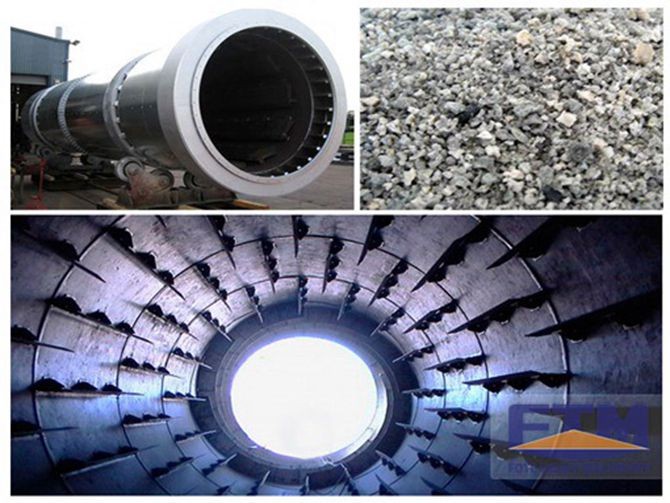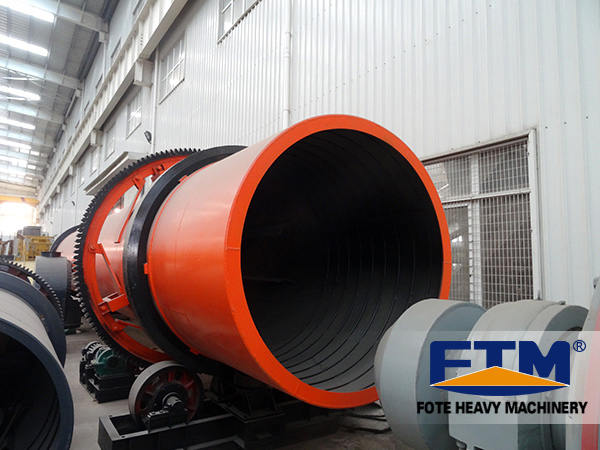 Advantages:
1. Large capacity; high overload resistance; high thermal efficiency, coal cost can reduce by 20%, directly reduce drying costs. Transmission gear pin can be used to change gear, instead of cast steel gear, saving cost and greatly reducing maintenance costs and time.
2. In order to achieve the best drying effect, using downstream drying methods, materials and heat flow from the same side into the slag drying machine, and the outlet of granulating slag dryer has low temperature.
3. Innovation in its internal structure and intensify cleaning of disperse materials and thermal conduction, eliminating the adhesion phenomenon of the cylinder wall.
4. The use of a new type of feeding and nesting devices puts an end to the slag drier uneven feeding jams, discontinuous, and phenomena such as returns, reduces the load of dust-removal system. The equipment lifting devices on the system for a wide range of technological innovations, especially using new combined lifting device, overcomes the dryer's "wind tunnel".
5. Slag dryer can meet the needs of different users of the slag dried material, such as particle size and moisture requirements.
Application Fields
Materials with large water content and large weight like Slag, river sand, quartz sand, limestone, clay, water, slag, coal slurry, sludge, etc.
Technical data:
| | | | | | | | |
| --- | --- | --- | --- | --- | --- | --- | --- |
| Length and Diameter | Volume | Reducer | Thickness (mm) | Weight (T) | Power(kw) | Fan power (kw) | Yield(t) |
| Φ 0.8 × 8 | 4 | JZQ350 | 8 | 3.2 | 4 | 4 | 0.5-2 |
| Φ 0.8 × 10 | 5 | JZQ350 | 8 | 3.7 | 4 | 4 | 0.5-2.5 |
| Φ 1 × 8 | 6.3 | JZQ350 | 8 | 4.5 | 5.5 | 4 | 1-2.5 |
| Φ 1 × 10 | 7.9 | JZQ350 | 8 | 5.2 | 5.5 | 5.5 | 1-3 |
| Φ 1 × 12 | 9.4 | JZQ350 | 8 | 5.7 | 7.5 | 5.5 | 1-4 |
| Φ 1.2 × 10 | 11.3 | JZQ400 | 10 | 9 | 11 | 7.5 | 1-4.5 |
| Φ 1.2 × 12 | 13.6 | JZQ400 | 10 | 10 | 11 | 7.5 | 1-4.8 |
| Φ 1.2 × 14 | 15.8 | JZQ400 | 10 | 11 | 11 | 7.5 | 1-5 |
| Φ 1.2 × 16 | 18 | JZQ400 | 10 | 12 | 11 | 7.5 | 2-6 |
| Φ 1.5 × 12 | 21.2 | JZQ500 | 12 | 14.4 | 11 | 7.5 | 2-9 |
| Φ 1.5 × 14 | 24.7 | JZQ500 | 12 | 15.6 | 15 | 11 | 2-9.5 |
| Φ 1.5 × 16 | 28.3 | JZQ500 | 12 | 16.8 | 15 | 11 | 2-10 |
| Φ 1.8 × 14 | 35.6 | JZQ500 | 16 | 23 | 18.5 | 15 | 5-11 |
| Φ 1.8 × 16 | 40.7 | JZQ500 | 16 | 24.5 | 18.5 | 15 | 5-12 |
| Φ 1.8 × 18 | 45.8 | JZQ500 | 16 | 26 | 18.5 | 15 | 5-13 |
| Φ 2 × 18 | 56.5 | JZQ650 | 18 | 31 | 22 | 18.5 | 5-15 |
| Φ 2 × 20 | 62.8 | JZQ650 | 18 | 33 | 30 | 22 | 5-16 |
| Φ 2 × 22 | 69 | JZQ650 | 18 | 35 | 30 | 22 | 5-17 |
| Φ 2.2 × 18 | 68.3 | JZQ650 | 20 | 38 | 30 | 22 | 8-18 |
| Φ 2.2 × 20 | 75.9 | JZQ650 | 20 | 42 | 30 | 22 | 8-19 |
| Φ 2.2 × 22 | 83.5 | JZQ650 | 20 | 46 | 30 | 22 | 8-20 |
| Φ 2.2 × 24 | 91.1 | JZQ650 | 20 | 50 | 30 | 22 | 8-21 |
| Φ 2.4 × 16 | 72.3 | JZQ650 | 22 | 45 | 37 | 30 | 10-20 |
| Φ 2.4 × 20 | 90.4 | JZQ750 | 22 | 51 | 45 | 37 | 10-22 |
| Φ 2.4 × 24 | 108.2 | JZQ750 | 22 | 60 | 55 | 37 | 10-25 |
| Φ 2.4 × 28 | 126.6 | JZQ750 | 24 | 67 | 75 | 55 | 10-30 |
| Φ 2.7 × 18 | 1.03 | JZQ750 | 24 | 55 | 75 | 55 | 15-25 |
| Φ 2.7 × 24 | 137.3 | JZQ750 | 24 | 68 | 75 | 55 | 15-30 |
| Φ 3 × 20 | 141.3 | JZQ900 | 25 | 81 | 75 | 55 | 25-30 |
| Φ 3.2 × 20 | 160 | JZQ900 | 25 | 95 | 90 | 55 | 25-35 |
| Φ 3.2 × 28 | 225 | JZQ900 | 25 | 101 | 90 | 75 | 25-40 |
| Φ 3.5 × 24 | 230 | JZQ900 | 25 | 120 | 110 | 75 | 30-50 |