Overview:
Brief Introduction
Mobile jaw crusher or trucked mobile jaw crusher is the latest stone crushing machine used in metallurgy, chemical industry, building materials, water and electricity frequent relocation work in materials processing, especially for motorway, stone railway, hydropower and other liquidity operations, the user can according to the processing the types of raw materials, size and product material requirements using a variety of different configurations.
Mobile jaw crushers greatly expand the field of coarse and fine crushing operation concept. Tyre mobile jaw crusher designed purpose follows wheeled mobile crushing plant, all standing in the customer's position. And regard eliminate the problem resulted from crushing site, environment, complex configuration and complex logistics as the primary solution and provide high efficient, low cost operating hardware.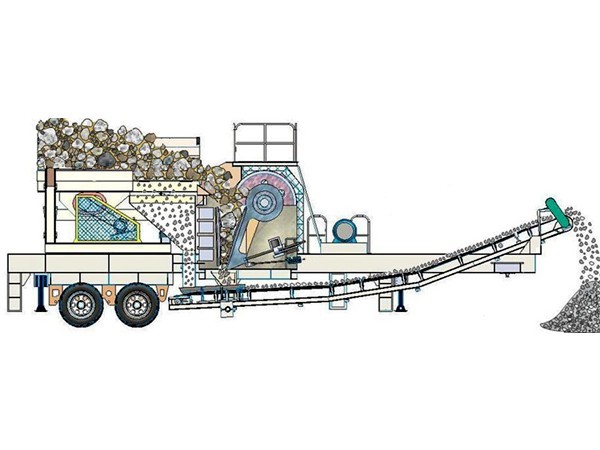 Construction of Mobile Jaw Crusher
1. High efficiency PF series jaw crusher and integrated high efficiency vibrating screen and belt conveyor;
2. Integrated installation of belt conveyor below the screen;
3. Steering axis to facilitate road transport;
4. Car mounting supporting device make it convenient to install equipment on the site;
5. Integrated vehicle motor and control box.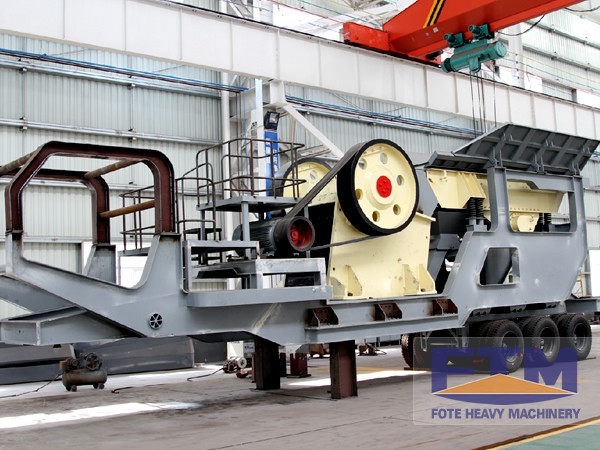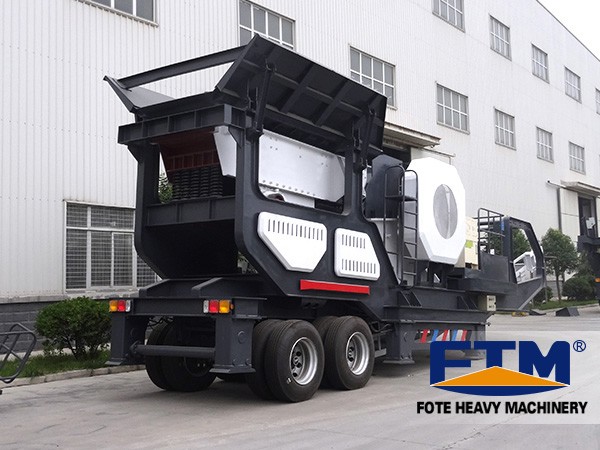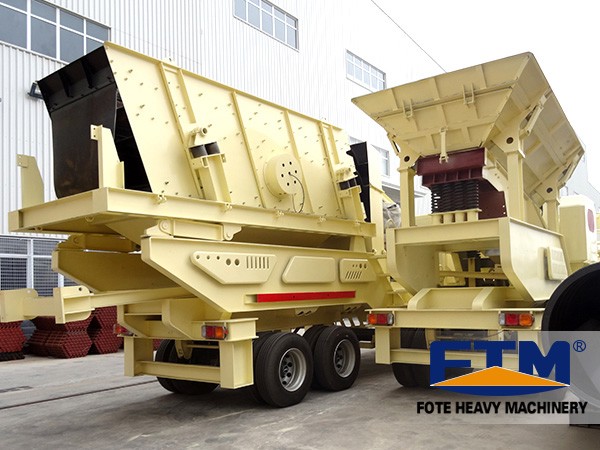 Advantages of Mobile Jaw Crushers
1. Integrated unit
Integrative design of mobile jaw crushing plant has high harmony and compact structure, saving time and cost, improving flexibility, avoiding large quantity of infrastructure and saving cost.
2. High flexibility:
Tyre mobile jaw crushing plant has high vehicle chassis and the width is smaller than semitrailer. Small turning radius makes it easier to drive on rugged place and benefit for enter the working site o supply wider space and more reasonable layout for crushing process.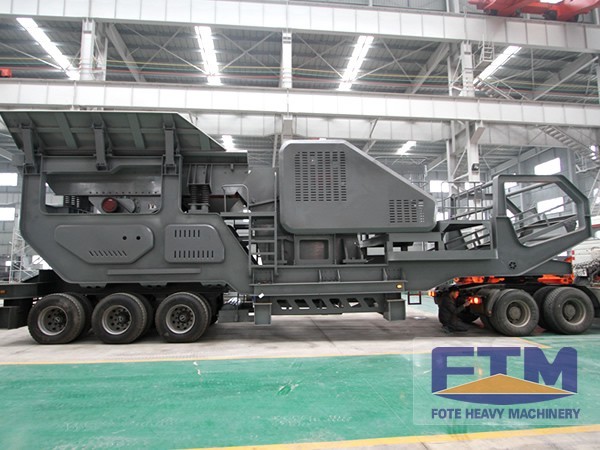 3. Reduce transportation cost:
Mobile jaw crushing plant can be directly selected sites, driving to the scene without transportation directly reaching the granularity of finished products. Extra long unit can directly convert broken materials into more specific belt conveyors for transport, saving transport costs .
4. Direct and high efficiency
For customers in the process of material types, product requirements, provide a more flexible process configuration to meet user requirements such as move mobile crushing and screening, build organization and logistics transport more efficient, to maximize the cost reduction.
5. High adaptability
It can conduct solo work as well as work together with coarse crushing equipment. The diesel generator equipped in the unit not only supply energy for the unit itself, but also can supply electricity for the united devices, greatly improving flexibility.
Technical data:
| | | | |
| --- | --- | --- | --- |
| Items | FTM938E69 | FTM1142E710 | FTM1349E912 |
| Transportation(without and with length(mm) diesel generator | 12000 | 13500 | 14600 |
| Transportation width(mm) | 2550 | 2550 | 2950 |
| Transportation height(mm) | 3750 | 4500 | 4500 |
| Max. length(mm) | 12500 | 1400 | 14600 |
| Max. width(mm) | 2900 | 2950 | 3300 |
| Max. height(mm) | 4100 | 4900 | 5300 |
| Weight(t) | 39 | 57 | 83 |
| Tyre configuration | Dual axial | Tri-axial | Tri-axial |
| Jaw crusher | PE600×900 | PE750×1060 | PE900×1200 |
| The Maximum feeding size(mm) | 480 | 630 | 750 |
| Discharge opening size (mm) | 65-160 | 80-140 | 100-200 |
| Capacity(t/h) | 90-180 | 110-320 | 220-450 |
| Vibrating feeder | ZSW380×95 | ZSW490×110 | ZSW490×130 |
| Main belt conveyor | B800×8.5M | B1000×9M | B1200×9.5M |
| Side-opening belt conveyor(optional) | B450×3M | B500×3.5M | B650×4M |
| Genset (optional)(kw) | 160 | 200 | 220 |
| Iron separator (optional) | RCYD(C)-8 | RCYD(C)-10 | RCYD(C)-12 |