Overview:
Brief Introduction
Compound fertilizer production line is also called compound fertilizer making equipment, compound fertilizer making machine and compound fertilizer making plant.Compound fertilizer production line uses chicken manure, pig manure, cow manure, organic material, city rubbish, and sludge as raw materials with no chemical component. Chicken and pig have poor digestion ability and can only consume 25% nutrition ingredient and 75% nutrition ingredient of the fodder are ejected along with the manure so that the dry final product contain ingredients of nitrogen, phosphorus, potassium, organic matter, amino acid, and protein. Compound fertilizer making equipment not make profits for enterprise and make great contribution to environment protection project.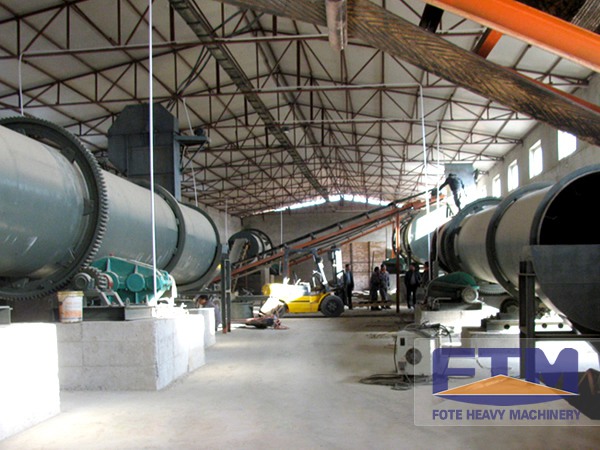 Working Process:
1. Dosing of raw material: urea, ammonium nitrate, ammonium chloride, ammonium sulphate, ammonium phosphate (Monoammonium phosphate, diammonium phosphate, coarse whiting, calcium), potassium chloride and other materials are arranged according to certain proportion. (Check the result according to market demands and soil test)
2. Raw material mixing: evenly mix the arranged raw material and improve the uniformity of particle size and efficiency of fertilizer.
3. Raw material prilling: send the mixed material into the granulator. (Rotor drum granulator and press granulator are optional.)
4. Particle drying: send the mixed material into drying machine and dry the water content of the particle and intensify the hardness of particle to make it convenient to store.
5. Particle cooling: after being dried, the temperature of particle is very high and easy to caking. After cooling, it is convenient to transport and store.
6. Particle screening: screen the cooled material and the unqualified particle should be granulated again and screen out the qualified particle.
7. Product filming: Film the qualified product to increase the brightness and fruity.
8. Product packaging: Package the filmed particle and store it at ventilated place.
Characteristics:
1. Little investment and fast effect. Good economical effect.
2. Compact and reasonable structure; advanced technology.
3. Energy saving; no waste; stable performance; easy maintenance.
4. High adaptability. It is suitable to granulate particle in compound fertilizer material, medicine, chemical industry, and fodder; high graining rate.
5. Suitable for various concentration and types of compound fertilizer (Including organic fertilizer, inorganic fertilizer, biological fertilizer, magnetic fertilizers, etc.), which is especially for rare earth and ammonium bicarbonate compound fertilizer. Fote compound fertilizer production line has filled the blank of this industry and ranked first class in domestic market.