Overview:
Introduction to ball mill
The ball mill is a common grinding machine used to grind all kinds of minerals and produce ore pulp. The ball mill grinder made by the Chinese ball mill manufacturers is applied in industries of cement production, refractory matter production and ceramics. If you are interested in the ball mills price and small ball mill for sale of our company, please leave us a message.
Classification of ball mill
Based on different grinding methods of adding water or not, ball mills are divided into dry type ball mill and wet type ball mill. In general, we use the wet type ball mill for the ore beneficiation.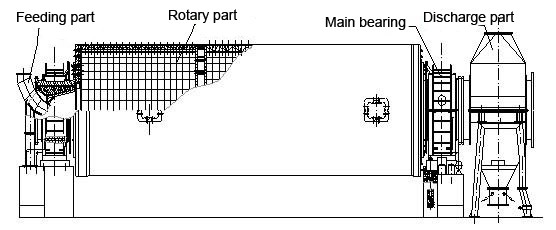 The dry type ball mill is mainly used for producing powder type materials like coal powder.
Ore discharging methods of wet type ball mill
Based on different ore discharging methods, ball mills are divided into grid shaped one and overflowing one. A grid shaped scale board is installed at the end cover of the grid shaped ball mill, which makes the qualified materials be discharged out of the ball mill through the scale board's gap. As for the overflowing ball mill, it discharges ores by adding water into the other end of the ball mill and once the water flows over the horizontal level of the ball mill's discharging end, the ore pulp will overflow out.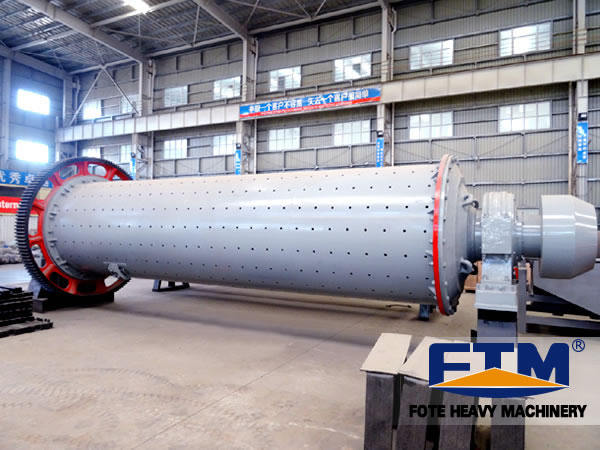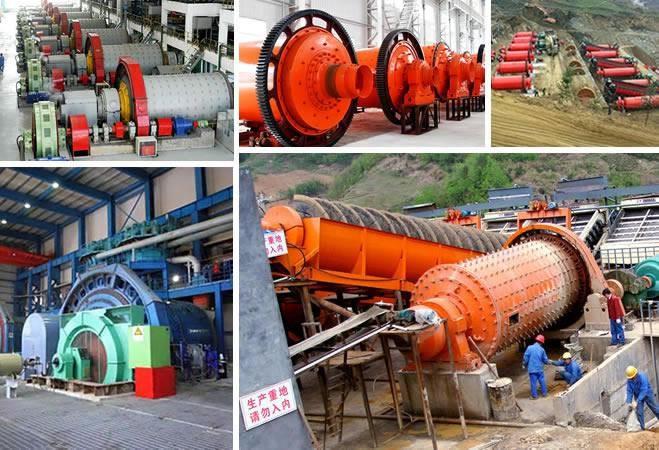 Ball mill plate
It's necessary to install the plate for ball mills at work. The common plate is made of anti-wear alloy such as high manganese steel plate, high aluminum plate, chromium plate, etc. Besides, there are many other ball mill plates like rubber scale board, ceramic scale board and brick scale board. In different cases, customers can choose the proper plate for themselves according to the target materials to realize higher grinding efficiency.
Technical data:
Model
Shell rotation speed
(r/min)
Ball load
(t)
Feeding size
(mm)
Discharging size
(mm)
Capacity
(t/h)
Motor power
(kw)
Total weight
(t)
Ф900×1800
36-38
1.5
≤20
0.075-0.89
0.65-2
18.5
5.85
Ф900×3000
36
2.7
≤20
0.075-0.89
1.1-3.5
22
6.98
Ф1200×2400
36
3
≤25
0.075-0.6
1.5-4.8
30
13.6
Ф1200×3000
36
3.5
≤25
0.074-0.4
1.6-5
37
14.3
Ф1200×4500
32.4
5
≤25
0.074-0.4
1.6-5.8
55
15.6
Ф1500×3000
29.7
7.5
≤25
0.074-0.4
2-5
75
19.5
Ф1500×4500
27
11
≤25
0.074-0.4
3-6
110
22
Ф1500×5700
28
12
≤25
0.074-0.4
3.5-6
130
25.8
Ф1830×3000
25.4
11
≤25
0.074-0.4
4-10
130
34.5
Ф1830×4500
25.4
15
≤25
0.074-0.4
4.5-12
155
38
Ф1830×6400
24.1
21
≤25
0.074-0.4
6.5-15
210
43
Ф1830×7000
24.1
23
≤25
0.074-0.4
7.5-17
245
43.8
Ф2100×3000
23.7
15
≤25
0.074-0.4
6.5-36
155
45
Ф2100×4500
23.7
24
≤25
0.074-0.4
8-43
245
56
Ф2100×7000
23.7
26
≤25
0.074-0.4
12-48
280
59.5
Ф2200×4500
21.5
27
≤25
0.074-0.4
9-45
280
54.5
Ф2200×6500
21.7
35
≤25
0.074-0.4
14-26
380
61
Ф2200×7000
21.7
35
≤25
0.074-0.4
15-28
380
62.5
Ф2200×7500
21.7
35
≤25
0.074-0.4
15-30
380
64.8
Ф2400×3000
21
23
≤25
0.074-0.4
7-50
245
58
Ф2400×4500
21
30
≤25
0.074-0.4
8.5-60
320
72
Ф2700×4000
20.7
40
≤25
0.074-0.4
22-80
380
95
Ф2700×4500
20.7
48
≤25
0.074-0.4
26-90
480
102
Ф3200×4500
18
65
≤25
0.074-0.4
As per process conditions
630
149
Ф3600×4500
17
90
≤25
0.074-0.4
As per process conditions
850
169
Ф3600×6000
17
110
≤25
0.074-0.4
As per process conditions
1250
198
Ф3600×8500
18
131
≤25
0.074-0.4
45.8-256
1800
260
Ф4000×5000
16.9
121
≤25
0.074-0.4
45-208
1500
230
Ф4000×6000
16.9
146
≤25
0.074-0.4
65-248
1600
242
Ф4000×6700
16.9
149
≤25
0.074-0.4
75-252
1800
249
Ф4500×6400
15.6
172
≤25
0.074-0.4
84-306
2000
280
Ф5030×6400
14.4
216
≤25
0.074-0.4
98-386
2500
320
Ф5030×8300
14.4
266
≤25
0.074-0.4
118-500
3300
403
Ф5500×8500
13.8
338
≤25
0.074-0.4
148-615
4500
525