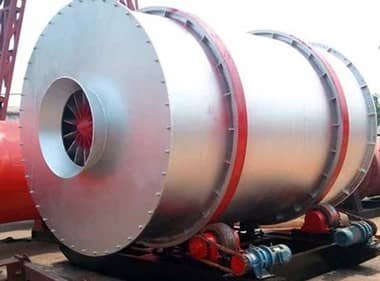 Three-Drum Dryer
Outer cylinder diameter: 2.5-3.6(m)
Production capacity: 25-30t/h
Application range: industries of mining, ore beneficiation, construction materials, chemical engineering and metallurgy
Note: You can contact us online or leave us a message.
Overview:
The three-drum dryer is made up of three layers of sleeves: internal, middle and external one. Both the internal and middle drums are two-dimension ones and the external drum is a vertical one, which makes the most use of the drying drums. The three-drum dryer's drum length is 25%-35% of the monocular dryer's, thus decreasing the covering area of the machine.

When the three-drum dryer is working, its drying drum rotates slowly with the inner cone drum filled with materials and hot air entering from the small end. Then materials flow to the middle drum and to the external drum successively. During this procedure, materials exchange heat with the hot air, thus realizing the drying purpose. As materials remain inside the drum for a long time, so the drying effect is perfect.

Technical data:
Item/Unit/Model
Φ2.5×7m
Φ2.7×7m
Φ3.0×7.0m
Φ3.2×7.0m
Φ3.6×8m
Diameter of outer cylinder(m)
2.5
2.7
3.0
3.2
3.6
Length of outer cylinder(m)
7
7
7.0
7.0
8
Cylinder volume( m³ )
16.63
16.63
52.678
52.678
81.38
Rotating speed of cylinder(rpm)
4-10
4-10
4 -10
4 -10
4 -10
Initial moisture of slag(%)
10-12
10-12
10-12
10-12
10-12
Final moisture of slag(%)
1
1
1
1
1
Initial moisture of yellow ground(%)
8-10
8-10
8-10
8-10
8-10
Final moisture of yellow ground (%)
0.5-1
0.5-1
0.5-1
0.5-1
0.5-1
Highest intake air temperature(℃)
700-750℃
700-750℃
700-750℃
700-750℃
700-750℃
Production capacity(T/h)
Yellow sand25-30
Slag20-25
Yellow sand30-35
Slag25-30
Yellow sand35-40
Slag30-35
Yellow sand45-50
Slag35-40
Yellow sand65-70
Slag60-65
Motor type
Y2-132m-4E
Y2-132m-4E
Y2-160m-4
Y2-160m-4
Y2-160m-4
Motor power(kw)
7.5×2
11×2
7.5×4
7.5×4
15×4
Reducer type
XWD7-23-11W
XWD7-23-11W
XWD6-23-7.5KW
XWD6-23-7.5KW
XWD8-23-15KW
Velocity ratio of reducer
29
29
29
29
29