Overview:
Brief Introduction:
Sand production line is a kind of special equipment for production of building sand and stone. Sand making plant is defined according to material type, and produces finished stone and manufactured sand, also known as sand making production line.
Sand making line is equivalent to the combination of stone production line and sand production line. Road construction and building materials often need aggregate production line, and this set of aggregate production equipment can meet the requirements of stone and artificial sand production.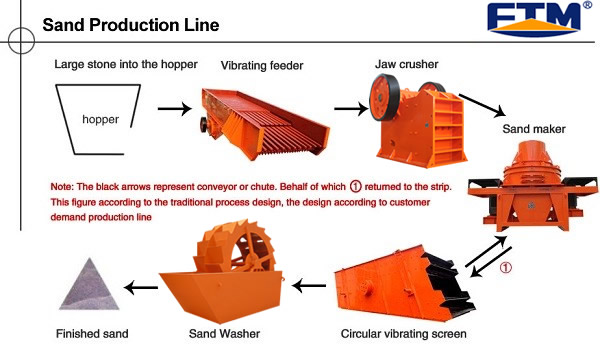 Working Process
Stones are evenly conveyed into jaw crusher via the vibration feeder for rough or coarse crushing. Then materials are sent into the sand making machine by belt conveyor for further crushing, and crushed materials are transported to a vibrating screen for screening. The qualified materials are sent to sand washing machine for cleaning, and after cleaning is finished, the final product will be conveyed out by belt conveyer. The unqualified materials return to sand maker for re-crushing, to form a closed loop multiple circle. Product size can be combined and graded according to the user's needs. If your choice is dry production process, the sand production line can be equipped with coarse and fine particle separator and dust removal equipment.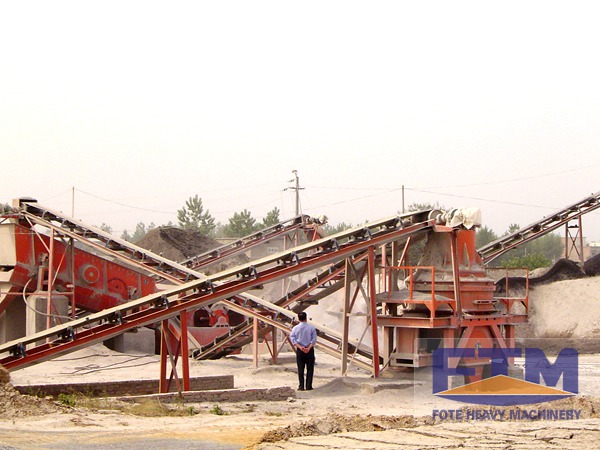 Characteristics:
1. High degree of automation
2. Low operating costs.
3. High crushing ratio
4. Energy conservation
5. Large production
6. Less pollution
7. Easy maintenance;
8. Uniform product size; excellent grain shape; and reasonable gradation.