Overview:
Mobile impact crusher or secondary tyre mobile impact crusher is a kind of mobile crushing station and the main equipments include impact crusher, screening machine, belt conveyor and motor.
Mobile impact crushing and screening plant is mainly for crushing and screening and can be pulled to the crushing site by the traction engine to crush directly, reducing material transportation and saving cost. It is widely used in building material industry, cement industry, road industry and other industries. In recent years, mobile impact crushing station is more and more popular in processing wastes, especially suitable for small crushing site, building waste processing and building waste crushing.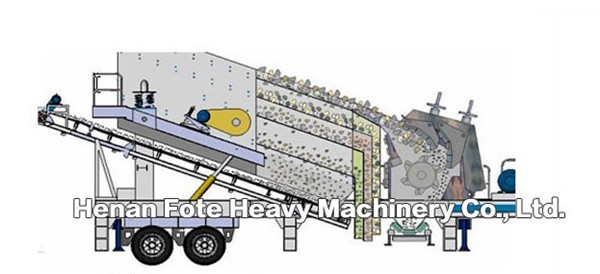 Construction of Mobile Impact Crushing Plant
1. Belt conveyor
2. Vibrating screen
3. Vibrating screen motor
4. Impact crusher
5. Impact crusher motor
6. Electric control cabinet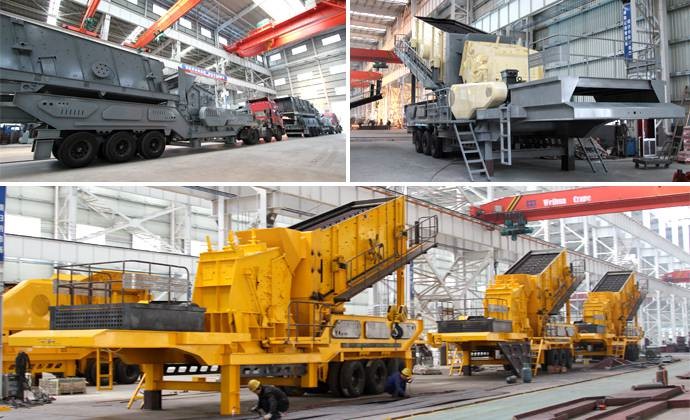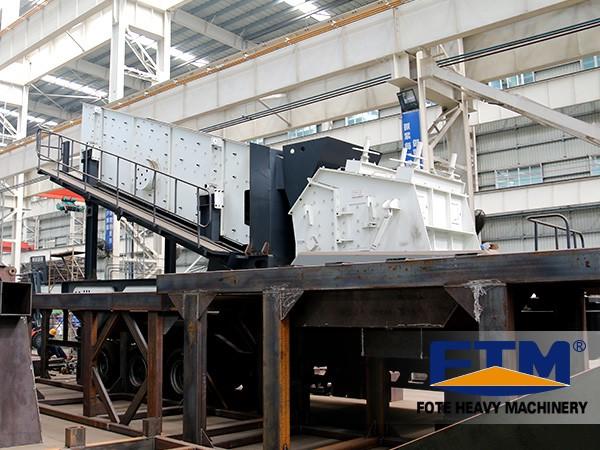 Advantages of Mobile Impact Crusher
Mobile impact crusher has small turning radius, facilitate common road, easier in broken field rugged driving in the bad road conditions: saving time for quick positioning site; eliminating the cumbersome steel-framed structures during crushing which can save a lot of time and favorable for entering into the reasonable zone to supply wider space and more reasonable layout for crushing process.
Mobile Impact Crusher Workshop
Fote Machinery is a professional mobile impact crusher manufacturer with years of experience and large crushing equipment workshop. Welcome to pay a visit.
Technical data:
| | | | |
| --- | --- | --- | --- |
| Items | FTM3S184F210 | FTM3S186F214 | FTM3S216F315 |
| Transportation(without and with length(mm) diesel generator | 14200 | 16000 | 16000 |
| Transportation width(mm) | 3100 | 3100 | 3200 |
| Transportation height(mm) | 4400 | 4400 | 4500 |
| Max. length(mm) | 14600 | 16400 | 16400 |
| Max. width(mm) | 3400 | 3400 | 3500 |
| Max. height(mm) | 5100 | 5100 | 5500 |
| Weight(t) | 35 | 41.5 | 47.5 |
| Tyre configuration | Dual axial | Tri-axial | Tri-axial |
| Impact crusher | PF-1210 | PF-1214 | PF-1315 |
| Under vibrating screen | B800×6M | B800×7M | B1000×7M |
| Vibrating Screen | 3YZS1848 | 3YZS1860 | 3YZS2160 |