Overview:
Toothed Roll Crusher
Toothed roll crusher is widely used in coal, metallurgy, mining, chemical industry, building materials and other industries, and it is more suitable to crush coal in large coal mines or coal preparation plant so that it also can be called coal crusher. Toothed roll crusher has high crushing capacity. The distance between the rollers can be adjusted by hydraulic pressure. Bearing of the toothed roll is of centralization lubrication. What's more, it has optimal design, high efficiency, uniform grain and costs low energy.
Protecting device: Motor is connected with the speed reducer by the hydraulic coupler to avoid dynamic overload. Sensor overload protection is quite reliable.
Working Principle of Toothed Roller Crusher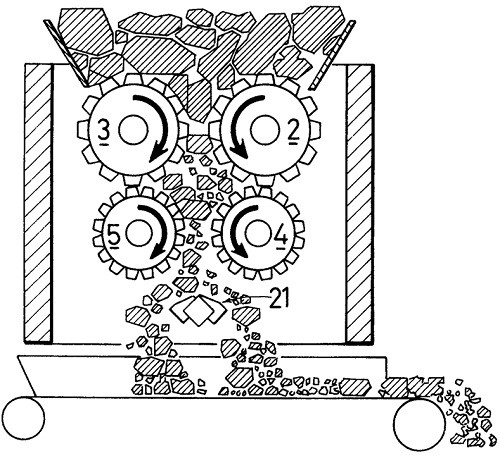 Working Diagram of Toothed Roller Crusher
Toothed roller crusher has the component of a pair of toothed metal roller. When it works, the two rollers rotate to opposite direction. The materials fall into the space between the rollers and are crushed.
Fote Toothed Roll Crusher
The crushing tooth of Fote toothed roll crusher is in special spiral layout. It is convenient to discharge the qualified grain and reduce the quantity of tooth roller which bear the pressure together so that it is in favor of crushing large materials, improving crushing efficiency and prolonging life expectancy.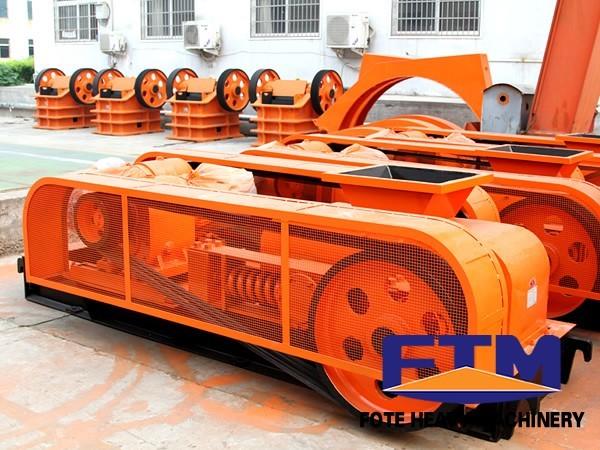 Fote toothed roller crusher price is quite reasonable and the quality is guaranteed. If you want to know more detailed information, you can send an e-mail or leave a message. We'll always at your service.
Characteristics of Toothed Roll Crusher
Toothed roll crusher is suitable to crush raw coal in coal mine, coal preparation plant and other industries.(Less than 30% gangue in the raw coal is allowed). Toothed roll crusher is also applied to crush other brittle materials whose hardness is similar with raw coal's. It has the characteristics like high efficiency, long life expectancy, fully sealed, low noise, uniform grain, etc.
Technical data:
Model
Roller diameter
(mm)
Roller length
(mm)
Max.Feeding size(mm)
Discharging Size(mm)
Output
(t/h)
Motor model
(kw)
Total weight
(kg)
Dimensions (L×W×H)
(mm)
2PGC600 ×500
600
500
200-500
25-125
46-60
11.5×2
5500
2450×1800 ×950
2PGC600 ×800
600
800
300-600
300-150
80-120
18.5×2
9800
4500×1900 ×1350
2PGC800 ×1050
800
1050
500-800
30-150
100-160
22×2
12600
2550×2050 ×1100
2PGC900 ×900
900
900
600-900
30-150
150-200
22×2
13500
2780×4100 ×1550
2PGC1015 ×760
1015
760
700-950
30-200
150-200
45×2
18000
2780×3200 ×1980
2PGC1200 ×1500
1200
1500
800-1050
30-200
200-300
55×2
52000
8010×4500 ×2050