Overview:
Introduction to the stone crushing plant
The stone crushing plant is also called the stone production line which will be assembled with different devices according to different situations. The rock crushing plant or the rock crushing line can not only produce stones and sand with all kinds of particle sizes, but also break various minerals. The crushed materials can be directly used in the construction industry or be further applied in the ore beneficiation plant or the grinding production.
Workflow of the stone crushing plant
First, stones after being exploded on the mountain with the diameter about 1020mm are delivered to the vibrating feeder via the dump truck and then they are fed to the jaw crusher to be crushed for the first time.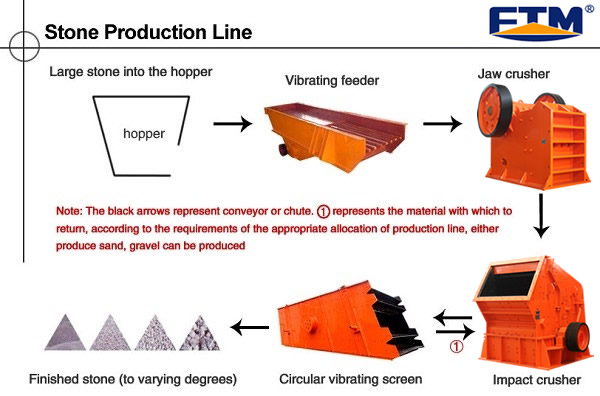 After the initial crushing process of the jaw crusher, stones own the diameter of 150-300mm and then are delivered through the belt conveyor or the secondary vibrating feeder to the jaw fine crusher or the impact crusher to be crushed for the second time.
After two times' crushing, materials will be conveyed to the vibrating screen for multi-layer screening and the screened bulk materials will enter the fine crusher again via the belt conveyor for further crushing. Finally, the qualified stones will be delivered to the finished product piles.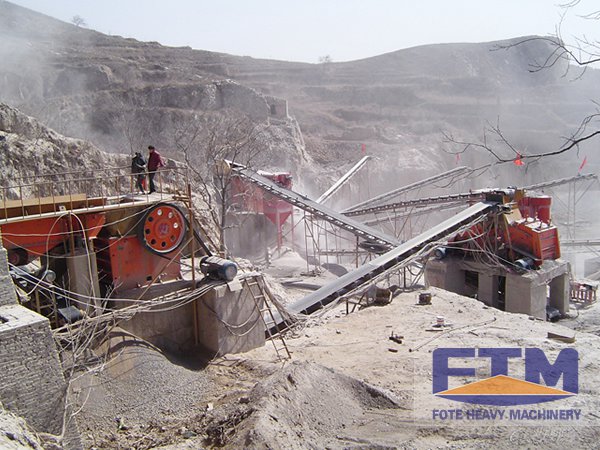 Required machines in the stone crushing plant
Though there are different machines equipped in different stone crushing plants, the crushers are always the core devices. The jaw crusher used to be the first crushing device, and the small sized fine crusher or the cone crusher will be the second crushing equipment. As for the sand making process, the sand maker can be arranged following the cone crusher. All these machines are connected through the belt conveyor.
What materials can the stone crushing plant process?
The stone crushing plant can process materials including limestone, granite, quartz stone, marble, dolomite, micalex, iron ore, copper ore, manganese, lead and zinc ores, hematite and cobbles etc.
Fote Company has been specialized in the development, production and sales of the stone crushing plant for 30 years. If you want to learn more about the price and other issues of our stone crushing plant, please leave us message with your contact information. We will get you as soon as possible.