Overview:
Brief Introduction to Coal Slime Dryer
Coal slime has the characteristics of high humidity and viscidity. However, traditional dryer cannot process the materials effectively. Coal slime dryer adopts unique scattering device to scatter the bond coal slime and dry to enlarge the contact surface of coal lime and hot air so that the efficiency of heat utilization has been greatly improved. After being dried, water content of coal slime is no more than 12% and the coal slime can be used as fuel directly to turn the waste to treasure.
Construction of Coal Slime Dryer
Coal slime dryer is composed of heat resource, scattering device, belt feeder, feeding machine, rotary drum, belt discharge machine, induced draft fan, tripper, and power distribution cabinet.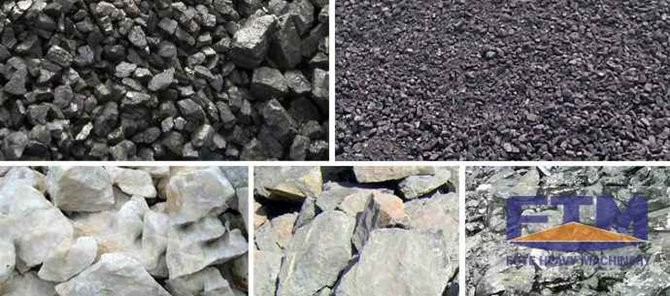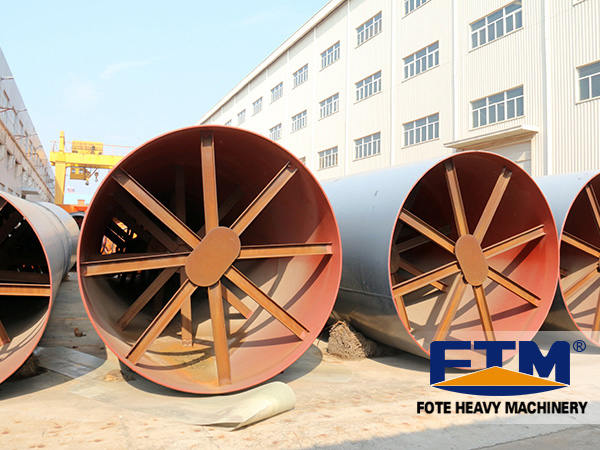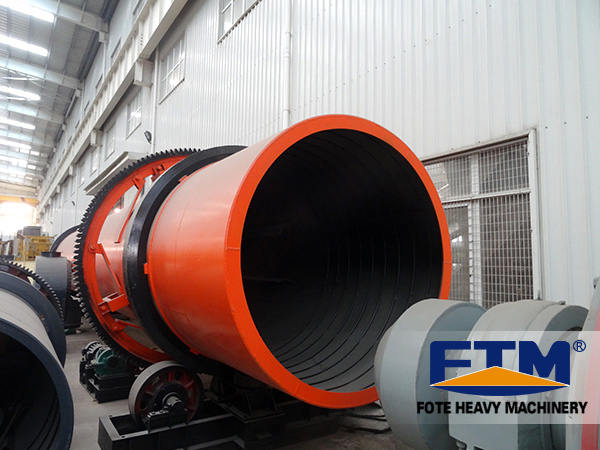 Application Fields of Coal Slime Dryer
1. Coal, coal, flotation plant, mixing plant in col industry;
2. Blast furnace slag, clay, bentonite, limestone, sand, quartz in building material industry;
3. All kinds of metal ore concentrate, slag, tailings in mineral processing industry
4. Non heat sensitive material in chemical industry
Coal slime dryer can solve the problem of reuse of coal slime and the capacity is 200t, 200t, 500t, 800t, 1000t, 1200t, 1500t, 2000t per day.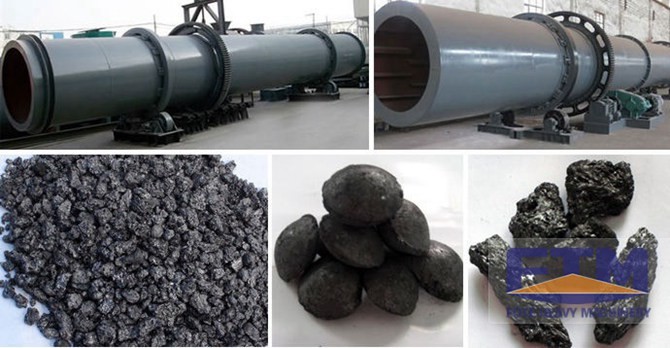 Advantages of Fote Slurry Dryer
1. High ability to resist overload; large capacity; low energy cost; low cost.
2. Downstream drying method. The smoke and wet materials into the dryer from the same side to use the high temperature smoke to achieve high evaporation intensity; low temperature in discharge mouth; high thermal efficiency.
3. According to different materials, the parameter is adjustable to make all broken material curtain in the drum and the exchange is fuller.
Fote Machinery has years of producing experience. There mant various of dryers such as slurry dryer, sludge drying machine, and clay dryer. The products made in Fote have high quality and comprehensive service. You can send an e-mail or leave a message to get more information. We'll always welcome your visit.
Technical data:
| | | | | | | | |
| --- | --- | --- | --- | --- | --- | --- | --- |
| Length and Diameter | Volume | Reducer | Thickness (mm) | Weight (T) | Power(kw) | Fan power (kw) | Yield(t) |
| Φ 0.8 × 8 | 4 | JZQ350 | 8 | 3.2 | 4 | 4 | 0.5-2 |
| Φ 0.8 × 10 | 5 | JZQ350 | 8 | 3.7 | 4 | 4 | 0.5-2.5 |
| Φ 1 × 8 | 6.3 | JZQ350 | 8 | 4.5 | 5.5 | 4 | 1-2.5 |
| Φ 1 × 10 | 7.9 | JZQ350 | 8 | 5.2 | 5.5 | 5.5 | 1-3 |
| Φ 1 × 12 | 9.4 | JZQ350 | 8 | 5.7 | 7.5 | 5.5 | 1-4 |
| Φ 1.2 × 10 | 11.3 | JZQ400 | 10 | 9 | 11 | 7.5 | 1-4.5 |
| Φ 1.2 × 12 | 13.6 | JZQ400 | 10 | 10 | 11 | 7.5 | 1-4.8 |
| Φ 1.2 × 14 | 15.8 | JZQ400 | 10 | 11 | 11 | 7.5 | 1-5 |
| Φ 1.2 × 16 | 18 | JZQ400 | 10 | 12 | 11 | 7.5 | 2-6 |
| Φ 1.5 × 12 | 21.2 | JZQ500 | 12 | 14.4 | 11 | 7.5 | 2-9 |
| Φ 1.5 × 14 | 24.7 | JZQ500 | 12 | 15.6 | 15 | 11 | 2-9.5 |
| Φ 1.5 × 16 | 28.3 | JZQ500 | 12 | 16.8 | 15 | 11 | 2-10 |
| Φ 1.8 × 14 | 35.6 | JZQ500 | 16 | 23 | 18.5 | 15 | 5-11 |
| Φ 1.8 × 16 | 40.7 | JZQ500 | 16 | 24.5 | 18.5 | 15 | 5-12 |
| Φ 1.8 × 18 | 45.8 | JZQ500 | 16 | 26 | 18.5 | 15 | 5-13 |
| Φ 2 × 18 | 56.5 | JZQ650 | 18 | 31 | 22 | 18.5 | 5-15 |
| Φ 2 × 20 | 62.8 | JZQ650 | 18 | 33 | 30 | 22 | 5-16 |
| Φ 2 × 22 | 69 | JZQ650 | 18 | 35 | 30 | 22 | 5-17 |
| Φ 2.2 × 18 | 68.3 | JZQ650 | 20 | 38 | 30 | 22 | 8-18 |
| Φ 2.2 × 20 | 75.9 | JZQ650 | 20 | 42 | 30 | 22 | 8-19 |
| Φ 2.2 × 22 | 83.5 | JZQ650 | 20 | 46 | 30 | 22 | 8-20 |
| Φ 2.2 × 24 | 91.1 | JZQ650 | 20 | 50 | 30 | 22 | 8-21 |
| Φ 2.4 × 16 | 72.3 | JZQ650 | 22 | 45 | 37 | 30 | 10-20 |
| Φ 2.4 × 20 | 90.4 | JZQ750 | 22 | 51 | 45 | 37 | 10-22 |
| Φ 2.4 × 24 | 108.2 | JZQ750 | 22 | 60 | 55 | 37 | 10-25 |
| Φ 2.4 × 28 | 126.6 | JZQ750 | 24 | 67 | 75 | 55 | 10-30 |
| Φ 2.7 × 18 | 1.03 | JZQ750 | 24 | 55 | 75 | 55 | 15-25 |
| Φ 2.7 × 24 | 137.3 | JZQ750 | 24 | 68 | 75 | 55 | 15-30 |
| Φ 3 × 20 | 141.3 | JZQ900 | 25 | 81 | 75 | 55 | 25-30 |
| Φ 3.2 × 20 | 160 | JZQ900 | 25 | 95 | 90 | 55 | 25-35 |
| Φ 3.2 × 28 | 225 | JZQ900 | 25 | 101 | 90 | 75 | 25-40 |
| Φ 3.5 × 24 | 230 | JZQ900 | 25 | 120 | 110 | 75 | 30-50 |