Overview:
Crawler mobile crusher is a kind of new product independently researched and developed by Fote Heavy Machinery. 120Tph mobile crusher is a important type of it. Crawler mobile crusher is a kind of crawler-type mobile crusher moved by tyre with hydraulic utility drive.
Construction: jaw crusher, vibrating feeder, screening machine, belt conveyor, self-propelled tracked drive platform.

What Are the Advantages of Crawler Mobile Crusher?
Crawler mobile crusher adopts self-driven with advanced technology and comprehensive function. It can directly into the working site without being installed to work, greatly reducing time and improving working efficiency.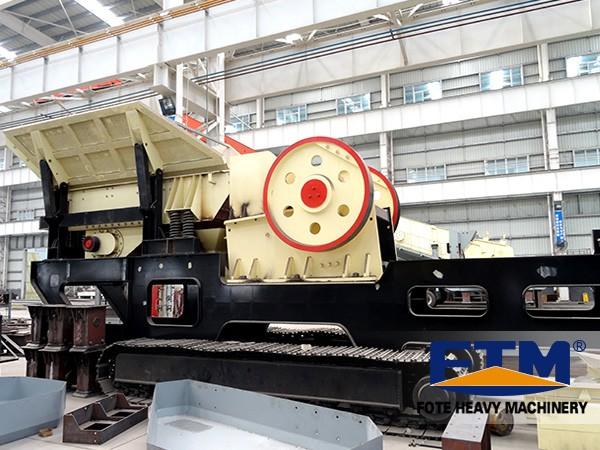 Flexible Combination-coarse crushing and fine crushing: crawler-type mobile crusher can flexibly combined to coarse, medium and fine crushing system and can work solo to satisfy different project needs. The coarse crushing no matter for stone material factory, ore or recycling, mobile crushing station is recommended. Mobile crushing station equipped with hydraulic cone crusher can applied in medium and fine crushing with high productivity and final product quality.
What Fields Are Crawler Mobile Crusher Applied in?
According to the different requirements, crawler mobile jaw crusher could form "first crush then screen" and "first screen then crusher" process. Crushing stations can be combined according to the actual demand for coarse and fine crushing in a two-stage screening system, or bold light triple screening system, with a high degree of flexibility and can best meet the needs of different customers. At present, the device has by virtue of its large crushing ratio, high efficiency, stable performance and strong adaptability, flexibility and convenience advantages such as widely used in open pit mine opened, road and bridge construction, urban construction, mining and other projects, in particular stone used in highways, railways, hydroelectric projects and other liquidity operations.
Technical data:
| | | |
| --- | --- | --- |
| Items | FTM938E69L | FTM1142E71L |
| Vibrating feeder | ZSW-950×3800 | ZSW-110×4200 |
| Jaw crusher | PE600×900 | PE750×1060 |
| Main belt conveyor | B800×8.5M | B1000×9M |
| Discharging height of main belt conveyor(mm) | 3200 | 3500 |
| Side-opening belt conveyor (optional) | B450×3M | B500×3.5M |
| Discharging height side-opening belt conveyor(mm) | 2800 | 3100 |
| Power of genset(kw) | 180 | 200 |
| Transportation length(mm) | 12000 | 13600 |
| Transportation width(mm) | 3100 | 3100 |
| Transportation height(mm) | 3650 | 4500 |
| Transportation weight(t) | 43.5 | 59 |
| Working length(mm) | 12100 | 13500 |
| Working width(mm) | 3100 | 3100 |
| Working height(mm) | 4100 | 5100 |