Bentonite Uses, Status and Processing in India
Bentonite is a kind of water-absorbing aluminum layered silicate clay with the main mineral component of the clay mineral named montmorillonite. Bentonite comes in a variety of colors, such as yellow-green, yellow-white, gray, white and so on. It can be both dense lumps or loose soil. There are several different types of bentonite, such as sodium bentonite, calcium bentonite and potassium bentonite.
India is one of the main producers of bentonite and occupies an important position in the world bentonite market. The main uses, current status and processing of bentonite in India will be introduced below.
What are the Uses of Bentonite in India?
Bentonite is known as the "universal clay" because of its special properties such as cohesiveness, adsorption and catalytic. In the global market, the demand and supply of bentonite in foundry, cat litter, iron ore pellets, drilling mud and civil engineering exceeds 80% of total sales. At present, bentonite has been used in more than 20 fields in India. It plays an important role in drilling mud, foundry sand, iron ore pellets, chemical carriers and other fields.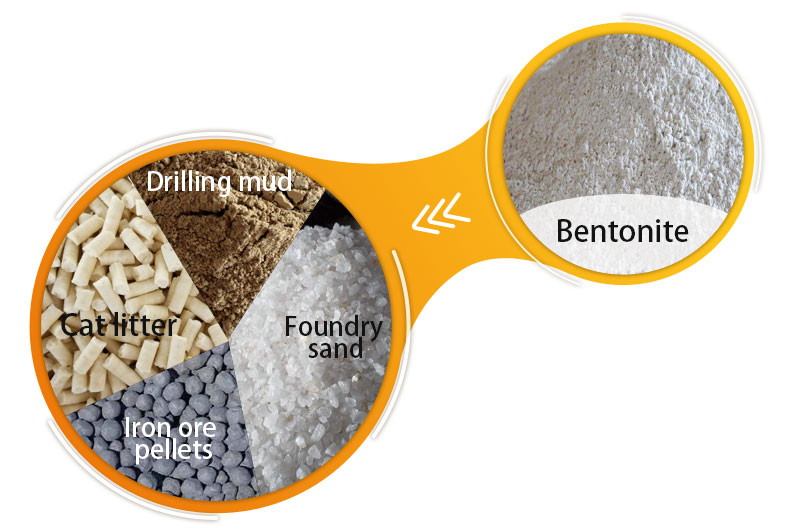 uses of bentonite powder
Drilling Mud
The drilling mud made of sodium bentonite has the advantages of high pulping rate and so on. It is suitable for oil drilling, high-pressure jet wells, small-diameter drilling and unstable formation drilling. The relevant industry has formulated the following specifications for bentonite in the drilling field:
Types
Specification
Yield
>91 bbl/ton
Yield point
6:1
Particle size
>98% -75μm
Moisture
<10% 90℃
Sand content
Max.2.5% +75μm by wet screening
Apparent viscosity
15 centipoise for 6.5g 15 in 100 ml fluid
Plastic viscosity
8 centipoise for 10g bentonite in 350ml of water
Gel strength
>5g initial, >40g after 10 min
PH
>6, and in some >12
Wall building
<15 ml filtrate, 30 min at 650 kPa
Foundry Sand
Sodium bentonite as a foundry sand binder can strengthen the sand resistance and solve the problem of easy collapse of the sand.
Types
Specification
Moisture
6 - 12%
PH
>8.2
Thermal durability
<0.7%
Liquid limit
600 - 850
Particle size
90-95% <75μm
Green compressive strength
58.7 kPa
Green deformation
2.5%
Green shear strength
17.3 kPa
Green tensile strength
10.3 kPa
Dry compressive strength
656 kPa
Iron Ore Pellets
Bentonite is used as a binder to make iron pellets, which can directly be put into the blast furnace for smelting instead of sintering, thus saving 10% to 15% of each of the flux and coke, and increasing the productivity of the blast furnace by 40% to 50%.
Types
Specification
Moisture
6 - 12%
PH
>8.2
Thermal durability
<0.7%
Liquid limit
600 - 850
Particle size
90-95% <75μm
Green compressive strength
58.7 kPa
Green deformation
2.5%
Green shear strength
17.3 kPa
Green tensile strength
10.3 kPa
Dry compressive strength
656 kPa
Herbicides/Chemical Carriers
Bentonite can be used as the pesticide carrier, diluent, purifying and decoloring agent for the grease and petroleum, as well as the clarifying agent and purifying agent for brewing and sugar making, etc.
Types
Specification
Particle size
>90%, 20-60 mesh
Moisture
<3%
Sorptive capacity
User specified
Liquid holding capacity
User specified
Hardness
User specified
Cat Litter
The advantages of strong adsorption and convenient disposal of bentonite can be used to make cat litter to reduce environmental pollution.
Types
Specification
Liquid absorbency
High
Odor absorbency
High
Particle size
User specified
Resistance to breakdown when wet
User specified
Free from harmful forms of silica
User specified
What is the Status of Bentonite in India?
The following will introduce you the current situation of bentonite in India from three perspectives: bentonite price, production output and demand in India.
What is the Average Price of Bentonite?
In recent years, the price of bentonite has been basically on the rise. From 2007 to 2019, the rise was almost 100%.
Average Bentonite Prices from 2007-2019
What is the Production Status of Bentonite in India?
The total reserves of bentonite are 13 × 105 kt. India accounts for 8% of the world's bentonite production and is one of the most important bentonite producers in the world. According to the following data, we can see that India's bentonite production is relatively stable and does not vary much.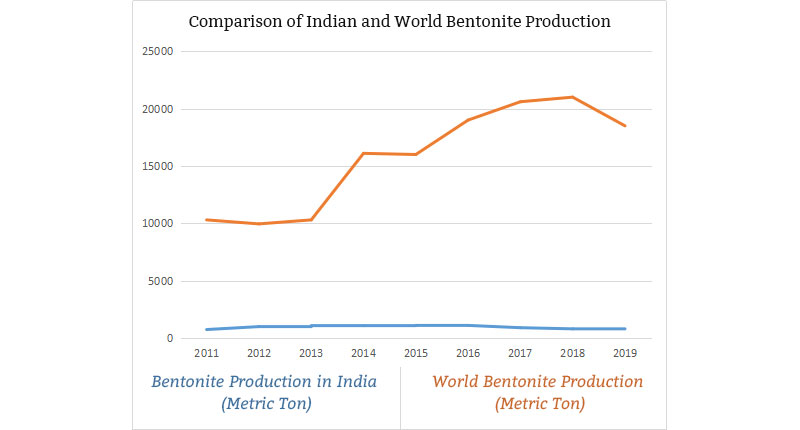 Comparison of Indian and World Bentonite Production
In India, Gujarat and Rajasthan are the main sources of bentonite. 73% of bentonite resources are distributed in Rajasthan, 25% in Gujarat, and the rest in Tamil Nadu, Jharkhand, Jammu and Kashmir. But 86% of total resources are classified in unclassified and unknown categories. Gujarat accounts for 91% of India's total bentonite production, while Rajasthan accounts for 9%.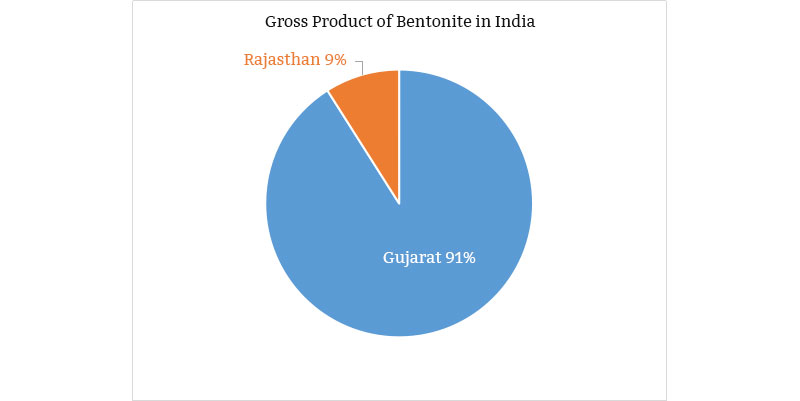 Gross Product of Bentonite in India
What is the Demand for Bentonite in India?
India's imports of bentonite rose slightly, mainly from Turkey (57%), the United States (24%), China (9%), Egypt (3%) and Italy (3%). Similarly, there was a small increase in bentonite exports, with the main buyers being Ukraine (27%), Indonesia (16%), Malaysia (12%) and Oman (5%).
India's bentonite market is likely to see healthy growth due to strong demand from the foundry and iron ore pelleting sectors. This was mainly due to strong growth in automobile production (100 million vehicles) and an increase in steel production. Increased civil construction activity and refining of traditional edible oil will also boost Indian bentonite consumption in the near future.
How is Bentonite Processed?
After the mining of bentonite raw ore, it is generally irregular in shape and contains about 25% ~ 28% water. After the drying in the storage yard to remove part of the surface water, the following processing will be conducted:
Crushing: Bentonite belongs to the soft non-metallic ore with the Mohs hardness of 1~2 and density of 2~3 g/cm3, which can be crused by the jaw crusher and impact crusher initially to 3 ~ 5mm.
Drying: After sodium (activation) treatment and extrusion molding of the crushed bentonite, it will be sent to a rotary dryer for drying. The moisture usually reaches 10% to 18%. Because of its layered structure, bentonite will be deactivated or inactivated if it loses too much water to below 8% during production.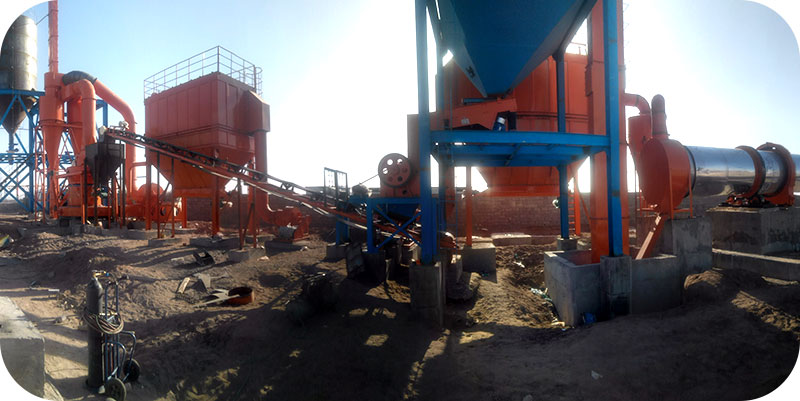 dryer in our bentonite processing plant
Milling: When the Raymond mill is in operation, the proper inlet wind temperature will directly affect the output and quality of the final product.
The moisture content of bentonite is generally high. If there is no special requirement for the moisture content of the finished product, it can be ground without hot air. If the finished product has strict moisture requirements (usually 8% ~ 12%), a certain amount of hot air must be passed. The temperature of inlet hot air needs to be controlled within a reasonable range. The production debugging parameters of the mill are shown in the following table:
Inlet Air Temperature /℃
Outlet Air Temperature /℃
Moisture Content of Bentonite into the Mill/%
Moisture Content of Bentonite out of the Mill/%
Output/(t/h)
Current/A
100
45
15
13~14
6~7
368~380
120
50
15
11~13
8~9
351~360
140
52
15
10~12
9~10
326~340
160
58
15
9~11
10~12
342~353
180
65
15
7~8
12~14
300~310
According to the debugging, the inlet air temperature is controlled at 140 ~ 160 ℃ and the ourlet air temperature can be controlled at 50 ~ 60 ℃. The moisture of the product is basically 8% ~ 12%, which will not affect the intrinsic activity of the bentonite powder. If the inlet air temperature exceeds 300 ℃, the bentonite will lose crystal water and the microstructure will be changed, which affects the activity and even result in inactivation.
After being milled by Raymond mill, more than 95% of bentonite can reach 200 mesh, which can meet the requirements of general application fields. Skilled technical staff of Hongxing Machinery can customize the bentonite processing plant combined with the suggestions of our senior engineers major research institutes according to your actual needs.
What is the Future Investment Prospect of Bentonite?
What are the prospects for bentonite? Let's take a look at what the authoritative reports say.
Demand: In 2014, the global demand for bentonite was 20.43 million tons. According to the forecast of Roskill Information Service Ltd., the UK: By 2020, the global demand for bentonite will reach 25.1 million tons.
Year
Global Demand (Million tons)
2014
20.43
2020
25.1
The world's largest application market for bentonite will be foundry, followed by iron ore pellets and drilling mud.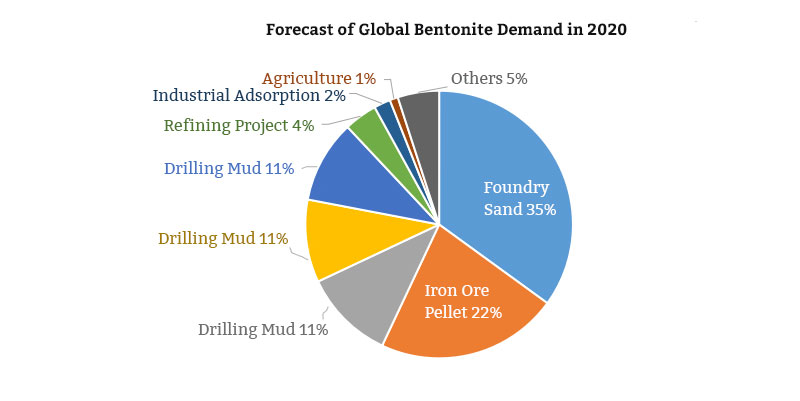 Forecast of Global Bentonite Demand in 2020
Production: According to the company's forecast: the global output of bentonite will increase at a rate of 4%. By 2020, its output will reach 22.3 million tons.
Sales volume: It shows that Global Bentonite sales volume in 2016 was 16.5 million tons, which is expected to reach 195 million tons in 2022. The revenue in 2016 is $974 million and will be $1.086 billion in 2022 with the annual compound growth rate of 1.8% based on the Global Bentonite Powder Market Research Report 2018 released by QYResearch.
Year
Sales Volume (Million tons)
Revenue (Million dollars)
2016
16.5
974
2022
195
1086
Market value: According to a report released by Transparency Market Research, the global bentonite market value was $1.42 billion in 2015 and is expected to increase to $1.85 billion by 2024, with a compound annual growth rate of 3% during this period.
Year
Market Value (Billion dollars)
2015
1.42
2024
1.85
With the increasing global demand for bentonite, the production and sales of bentonite will also increase significantly. In 2024, the market value of bentonite will even increase to 1.85 billion dollars. It is clear that the bentonite industry will flourish and investment in bentonite will be promising.