Can Old Concrete be Crushed for Recycling?
Out of the total construction demolition waste, 40% is concrete. Fortunately, concrete can be crushed for recycling and many countries have already done so. It is estimated that about 140 million tons of concrete are recycled each year in the U.S. alone. What attracted the United States to develop concrete recycling so vigorously? How to recycle concrete? How can you use crushed concrete?
What can you get from crushed concrete?
Low cost
1. Cheaper raw materials
There can be a huge difference between the costs of new materials and recycled concretes. Of course, recycling concrete by crushing drags down the cost for buying raw materials or gravel mining and it's also less expensive than freshly-mined concrete.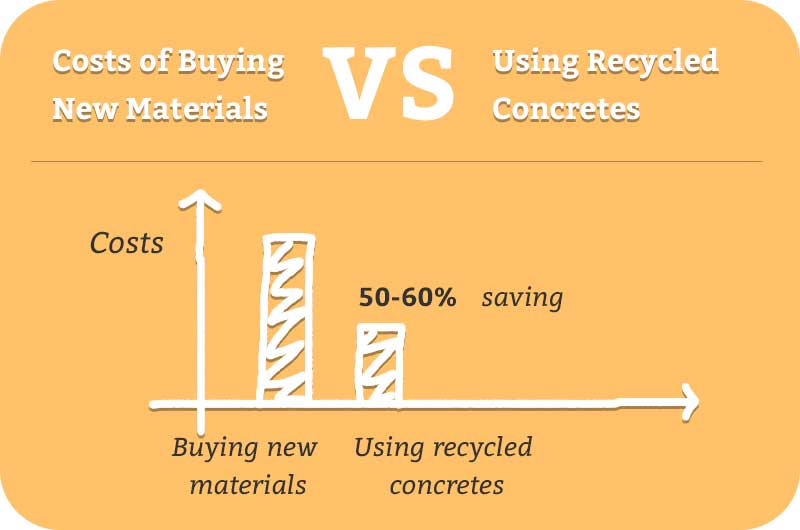 Costs of Buying New Materials vs Using Recycled Concretes
2. Goodbye to disposing and transporting fees
It'll cost a lot to remove and haul away old concrete from a construction site to landfill, so recycled concretes also reduce the costs of transporting and disposing. It is more cost-effective from this point by using recycled concretes.
The following is the normal price of tipping costs and freight charges:
Types
Price
Tipping costs (per ton)
$100
Freight charges (per mile/ton)
$0.25
3. No more landfill costs
For every 10,000 tons of construction waste generated, at least 1 acre of land needs to be stacked. It not only wastes a lot of valuable land resources, but also a large sum of money on the land costs. Using crushed concretes saves increasing landfill costs because old concrete takes up so large space in the landfill.
Resources saving
On the one hand, using recycled concrete can reduce the need for gravel mining, water, coal, oil and natural gas, thus saving natural resources.
On the other hand, natural sandstone, which belongs to non-renewable resources will soon face a shortage if unrestricted collection. Then, the development of waste concrete recycling becomes the key to solving the problem.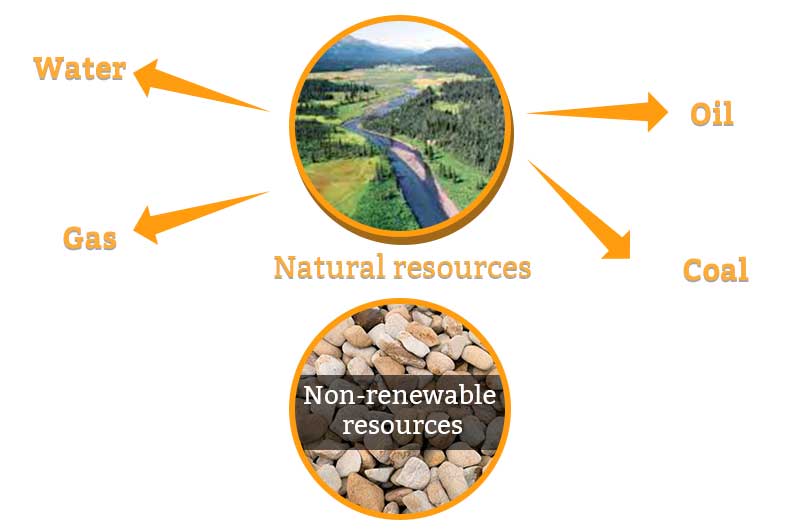 resources saving by using recycled concretes
Green effect
Crushed concrete, known as a "green building material", is environmentally friendly. You give new life to unwanted concrete and require very little processing to produce it. Using recycled concrete can reduce the pollution involved in transportationand mining. It is reported that recycling one ton of concrete could save 900 kg of CO2.
Concretes meeting standard requirements
Some people may worry about whether the quality of recycled concrete can meet the requirements of actual production. We have done research on this issue, and the results are quite satisfactory. Although the bulk density of recycled aggregate is lower than that of natural aggregate, it meets the requirement of construction generally. Moreover, cost and resources are significantly saved and the environment is protected.
Particulars
Natural concrete
Recycled concrete
Results
Specific Gravity
2.4-3.0
2.35-2.58
less but satisfying
Water Absorption
0.29%-0.3%
0.3%-0.32%
better
Bulk Density
1678.2 KN/m3
1469.8KN/m3
not satisfying
Crushing Values
18.4%
36.3%
satisfying
Impact Values
17.65%
35.2%
satisfying
How do you crush concrete?
The mobile rock crusher, either driven by tire or crawler, is the ideal option for concrete recycling because of its superior on-site mobility. With mobile crusher on sites where several moves are required, there is no need for special infrastructure or any external power sources, making it easier and cheaper for your organization to recycle.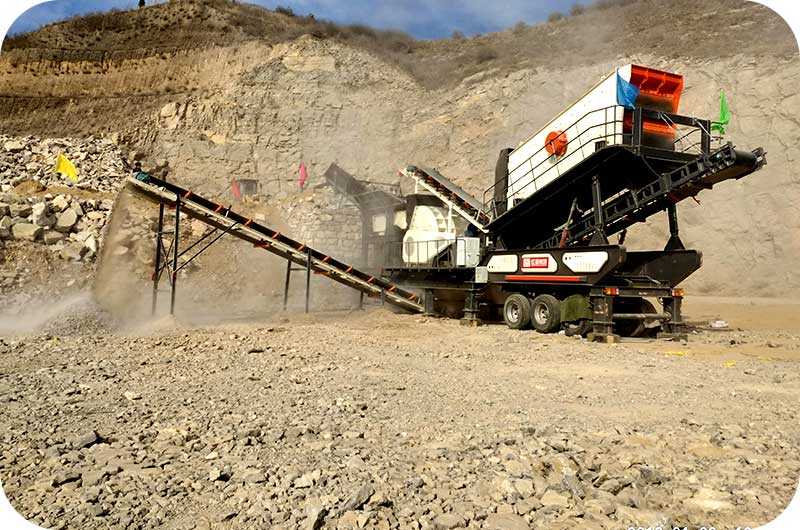 mobile crusher on site
The mobile type can be configured into all types of crushers below:
Jaw Crushers - Most recyclers use a jaw crusher for primary crushing because it can handle large pieces of concrete and residual reinforcement. An excavator loads the concrete into the jaw crusher then it chew the larger chunks of concrete into smaller pieces. It reduces concrete to 60-80 mm which can be usually used as fill.
Impact Crushers - Impact crusher is suitable for secondary crushing because it is much faster and has a larger reduction ratioand and it can produce concrete with particle size about 20 mm.
Cone Crushers - Cone crushers can also be used behind the jaw crusher and the crushed concrete produced by it passes through screens that separate the aggregate into sizes greater than 20 mm and 10-20 mm. The plus 20 mm material is fed back into the secondary crusher in either case until it is reduced to 10-20 mm which can be used as roadbase.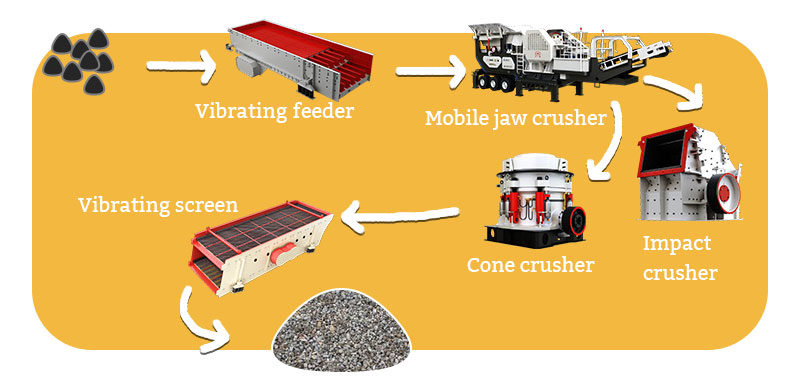 process of crushing concretes
What can recycled concretes be used for?
It is reported that 1×108t of waste concrete is recycled in the form of recycled aggregate every year, accounting for 5% of the total aggregate. What's more, recycled concretes can be used extensively. About 68% of the recycled aggregate is used for road base and foundation, 6% for new concrete, 9% for asphalt concrete, 3% for slope protection, 7% for general backfilling, and 7% for other applications.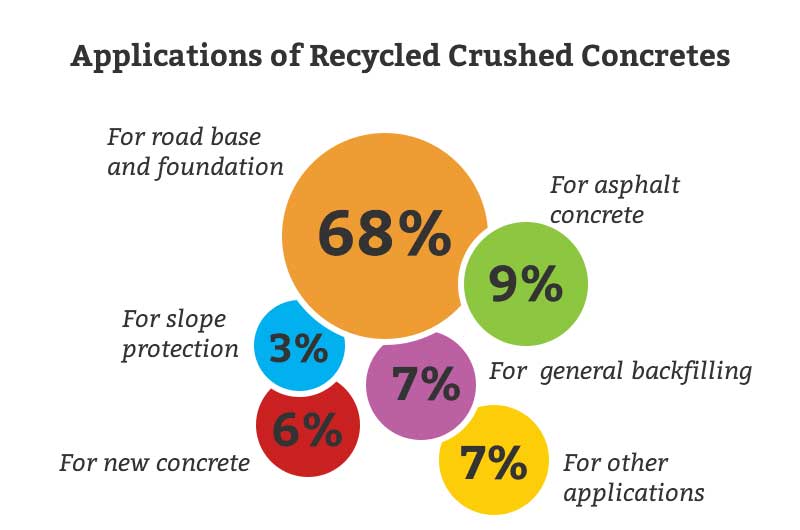 Applications of Recycled Crushed Concretes
Roadbase
The fines content of recycled concretes may restrict drainage, particularly in road sub-base applications. However, the fines also facilitate compaction in some jurisdictions. The use of recycled materials is often preferred for this reason.
The biggest application of recycled concrete aggregate is a substitute for new asphalt pavement aggregates, which can be used as aggregate base in road construction. It can be widely used in sidewalks, driveways, alleys, residence and so on, serving as a reliable bed or stable foundation.
Fill for new concrete
Crushed recycled concrete also shows high marketability being used as the dry aggregate for new concrete, which is extremely amazing. Because the demand for concrete is huge for its wide application in construction and a concrete boom is undoubted. By 2050, the world is expected to need between 3.8 and 4.6 Gt (IEA, 2010) concrete a year from 2.77 Gt in 2007 (USGS, 2008).
Year
Global Demand of Concretes
2007
2.77 Gt
2050
3.8-4.6 Gt
Soil stabilization
Crushed concrete can have pozzolanic ability, so the fines of crushed concrete can play a stabilizing role. Larger particles play a larger role by increasing the grain size of the soil and the efficiency of bettering the gradation can be tested by CBR-test.
So where soil stability issues exist, the bearing capacity of the foundation can be increased by incorporating recycled aggregate, lime or fly ash. Recycled crushed concrete is a great option for improving stability by changes the water sensitivity of the roadbed.
Landscaping
By using different proportions of concrete, several patterns in landscape design can be met and unique and personalized landscape design is allowed.
Recycled concrete is therefore a permanent solution in landscape settings for its flexibility in terms of shape, color and texture including waterscape, paving stones, boulders/stacked rocks, plantation sites, retaining walls, etc. after properly crushed and well sorted.
Bank Protection
In terms of economical bank-protection structures, the use of recycled concretes is desirable, especially in developing countries. They can be banded together forcefully and partially or completely buried on unstable slopes.
Therefore, the recycled concrete is an ideal material for protecting embankments, surface erosion control, beach and slop protection and other water resources for erosion control.

applications of crushed concretes