Electric Powered Crawler Mobile Jaw Crusher For River Stone With Large Capacity
The feedback from our customer
"We are looking for a 150-200tph capacity electric powered crawler mobile jaw crusher, minimum input of 500-600mm, with 25mm gravel input, our main material is river stone. I'm Neil from the Philippines. Our company is located at Albay Province Bicol Region." This is the feedback from our customer. FTM machinery's mobile jaw crusher for sale. If you have any mining project, you can consult about the machine with us. This customer's raw material is river stone, then what type of mineral is a river rock stone?
What is a river rock stone?
River stone is a product of mining yellow sand, named for its shape like a goose egg. Pebble as a kind of purely natural stone, is taken from the sandstone mountain produced by the rise of an ancient riverbed after the crustal movement of thousands of years ago, experienced the impact of flash floods, the constant squeeze and friction in the process of moving water. Its main chemical component is silica, followed by a small amount of iron oxide and trace amounts of manganese, copper, aluminum, magnesium and other elements and compounds.
They have different pigments, such as red for iron, blue for copper, purple for manganese, yellow translucent for silicate colloid, jade with green minerals and so on. Since the types and contents of pigment ions dissolved into silicon dioxide hydrothermal solution are different, there are blue river stone, brown river stone, yellow river stone, red river stone, etc.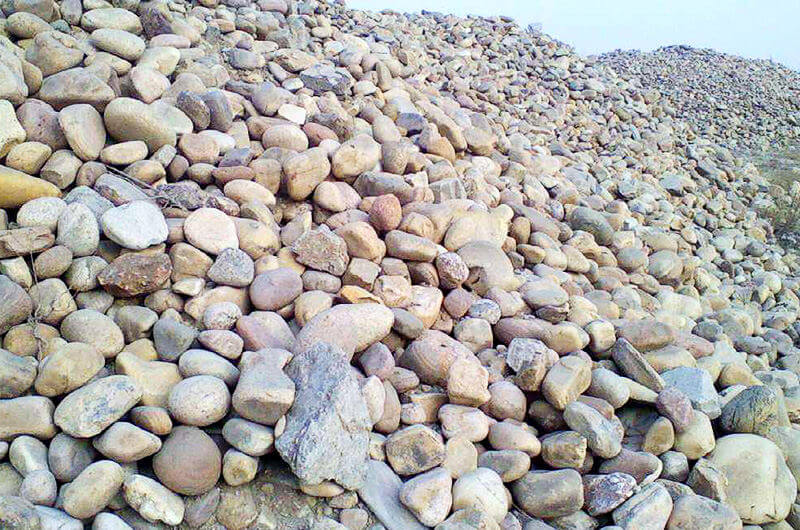 River stone
What is the river stone used for?
The cement concrete is the most widely used building material in modern civil engineering construction. It plays an important role that other materials can't replace. Artificial coarse aggregate gravel is an important part of cement concrete. However, with the accelerating pace of highway and urbanization construction and the rapid development of the construction industry, the demand for gravel is increasing. The uneven distribution of rocks results in the shortage of gravel. Therefore, more and more people have to depend on crushing the riverstone to meet the demands of market.
River stones or broken river stones are used in the first-class roads and the construction industry in cities. River stones and broken river stones are often used in most of the bridge and pavement structures in the highways and pavement structures we are constructing. Proved by many tests, the broken rive stones combine the advantages of river stones and artificial gravels. It not only improves the physical indexes of cement concrete, but also improves the characteristics of pumping cement concrete which is easy to shrink and crack, improves the crack resistance, and at the same time achieves good technical, economic and social benefits. It can be called "green" Building materials".
Filtration of river stone: river stone as the most common type of filter material is widely used in the water. River stone can be used as a filter material or a filter layer. It is a cheap but very practical filter medium. Layering placement can effectively absorb fine dust and harmful substances, thus it's good filtering.
The role of pebbles in transformers: pebble filters can also be used as transformer mats, mainly to absorb transformer oil leakage to reduce accidents. When the accident happened, the river stone layer can avoid oil splashing in the transformer and explosion. The pebbles can be isolated to facilitate the fire when the explosion. Transformers can be cooled with river stones when the temperature is too high. Insulated cobblestone is easy for maintenance and inspection. Besides, Pebbles help to absorb shock.
The river stones can be used as the landscape. They are widely used in public buildings, villas, courtyard buildings, paved roads (the cobblestone road paved in the park has longevity effect), park rockery, bonsai filling materials, garden art and other high-rise superstructures. It not only carries forward the ancient culture of the East but also reflects the classical and elegant Western style. Pebble also provides high-quality materials for water purification, sewage treatment, electricity, gardens and other projects, raw materials for ceramics, precision casting, papermaking, grinding, chemical, monocrystalline silicon, national defense, etc.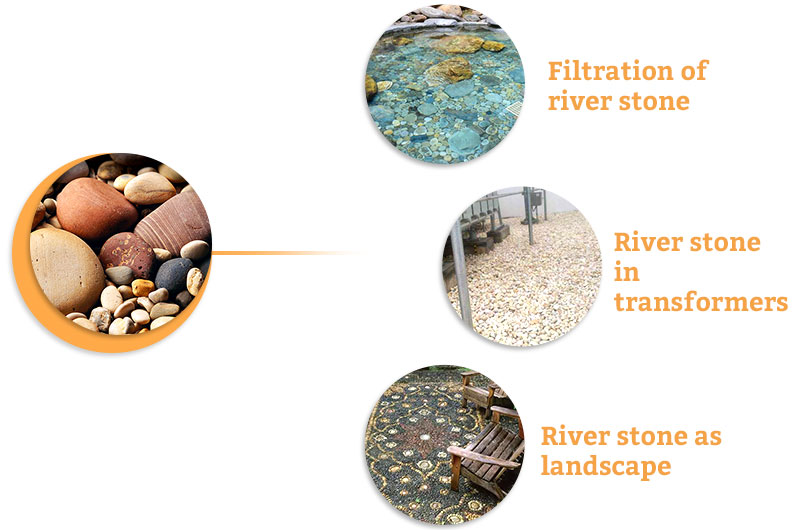 The application of river stone
What is a crawler mobile jaw crusher?
However, there is a question that how to process the natural river stone? More and more people choose the tracked mobile jaw crusher machine to crush the large size river stone into small size. Why so many people choose it? Here is the question:
1.Flexible mobility. Pebble crawler mobile jaw crusher's vehicle chassis is high and the turning radius is small, which is convenient to drive on ordinary roads and rough road conditions. So this saves a lot of working time. It is easier to drive to the reasonable construction area and provides more flexible workspace for the overall crushing process.
2.Reduce material transportation costs. The river stone tracked mobile jaw crusher plant based on the principle of "close to treatment" can crush the material on-site in the first line, which eliminates the intermediate link of material transportation, re-crushing and processing.
3.Work efficiently. The river stone crawler mobile jaw crusher machine can work independently, or can provide more flexible process plan configuration according to the material type and product requirements to meet various requirements such as portable crushing and moving screening. In this way, the logistics transfer is more direct and effective, and the cost is maximized.
4.Adaptable and flexible configuration. River stone tracked mobile jaw crusher station provides a simple, low-cost special combination unit configuration. For the coarse crushing and fine crushing screening system, it can be operated independently by a single unit, or can be flexibly composed into a system.
Hop side clearance provides flexibility in a variety of configurations for screening material handling. In addition to supplying power to the unit, the diesel generator in the integrated unit configuration can also be configured to provide combined power for process system.
The summary about characteristics of the river tracked mobile jaw crusher plant is detailed, Mainly the following four aspects: flexible mobility, reduce material transportation costs, work efficiently, and adaptable and flexible configuration. These features allow the river stone tracked mobile jaw crusher to have a wider range of applications and better crushing effect.
Crawler mobile jaw crusher in India
Working principle of tracked jaw crusher
First, the raw material is delivered to the feeder through a conveyor belt. Then, the crusher will crush the material. The crushed material will be separated through the screen. The material that meets the crushing requirements is output by the conveyor, and the material that does not meet the requirements is again broken into the crusher. The whole portable crusher forms a closed-circuit system through a circular vibrating screen to realize the cyclic crushing of materials, and the finished material is output by the conveyor.


Working principle
Tracked jaw crusher for sale
If you have rocks or stones that are need to be crushing, Fote company can provide you with the crawler mobile jaw crusher. The price of crawler mobile jaw crusher machine is cheaper than other manufactureres under the same quality. Our technic manager will send you the latest quotation if you are interested in.
Crawler mobile jaw crusher for sale in India. This is the first time for the crawler mobile jaw crusher plant to be shown in India. We provide an environmental protection company with a 100TPH construction waste mobile production line in India to produce recycled aggregates in line with national regulations and requirements. After investigating and researching on user's needs and continuous improvement of product performance, the portable concrete crusher of FTM Machinery is more stable in work, more complete in functions, and more practical. Its processing capacity of the whole machine is greatly improved.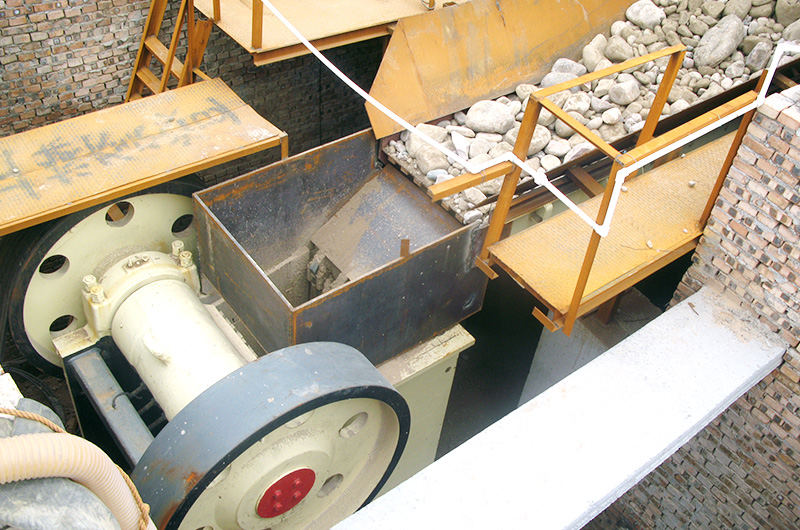 Crawler mobile jaw crusher in India for sale
After service of FTM Machinery
Our engineer will make a professional plan and flow chart for you according to your needs. Besides, FTM Machinery will arrange people to train operators for you. Our technology manager will work with you to complete the acceptance of the equipment, assist in the preparation of the construction plan and detailed process. Our company also will send technicians to the site to guide and equipment installation. If you have any project about the mining, FTM Machinery can provide you the equipment you want. Welcome to FTM company for a visit or you can consult online for more details.