The Applications of Briquette Machine's Final Product
The briquette machine is mainly used for moulding powder materials which are difficult to form such as iron powder, aluminum powder, carbon powder, slag, gypsum, tailings, sludge, kaolin, activated carbon, coke breeze and so on. The final product can be widely used in refractory materials, power plants, metallurgy, chemical, energy, transportation, heating and other industries.
The formed material has good economic and social benefits for its energy-saving, environmentally friendly, easy to transport, and improved utilization rate of waste. Here are some examples of the materials that are often processed by briquette machine and a discussion about the applications and benefits of them.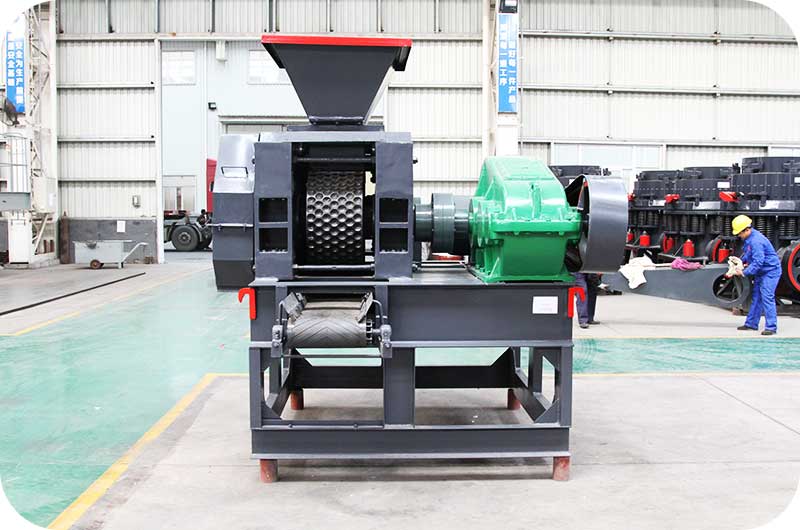 the briquette machine
Coal Briquette
The briquette machine is able to mould the coal to coal briquette whose market is very large. Due to strict environmental protection requirements and high labor prices in developed countries, the production of coal briquette is drastically reduced; Developing countries also need imported coal briquette for industrial and civilian use.
Take China as an example, according to incomplete statistics, there are 460,000 industrial boilers and 160,000 kiln furnaces, which need 50 million tons of boiler coal briquette per year as well as more than 800 small and medium chemical fertilizer plants with the annual demand for coal briquette of 60 million tons.What's more, 80 million tons of civilian coal briquette is needed.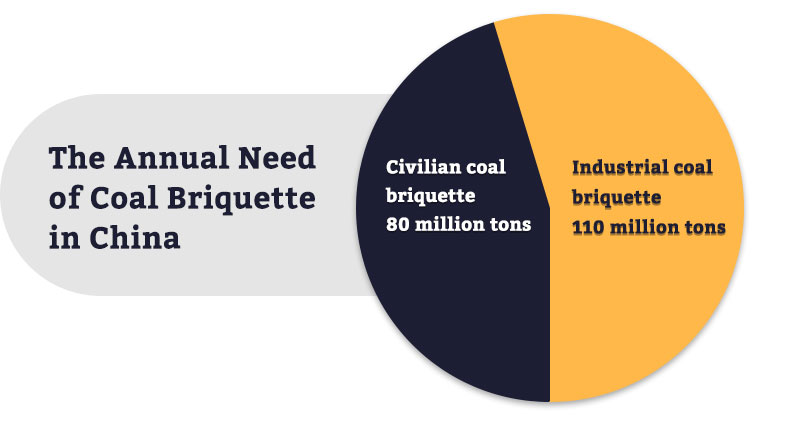 The current coal briquette is far from meeting the demand. The price of coal is about $35-60 per ton, while the coal briquette is about $110 per ton. The coal briquette can be produced by the briquette machine with an output of 1-35 tons/hour and the cost of binder can be kept within $5 per ton of coal, among which the profit is very considerable.
Type
Coal powder
Coal Briquette
Thermal Efficiency
40%
75%
Calorific Value
one
twice
Coal Saving Efficiency
×
15%~27%
Dust Emission Reducing Rate
×
80%~91.2%
SO2 Emission Reducing Rate
×
20%~36.3%
Dust Emission Concentration Reducing Rate
×
95%
NOx Emission Reducing Rate
×
50%
Price (per ton)
$35-60
$110
The coal briquette produced by briquette machine is suitable for the combustion of large industrial boilers in unit kilns, paper mills, chemical plants, distilleries, pharmaceutical units, dyeing houses, food processing units, oil mills, etc. It can also be applied to the heating of the building in all kinds of urban and rural areas with the characteristics of good ventilation and permeability, long combustion cycle, good thermal stability, high burnout rate, greatly increased boiler output, coal saving and environmental protection.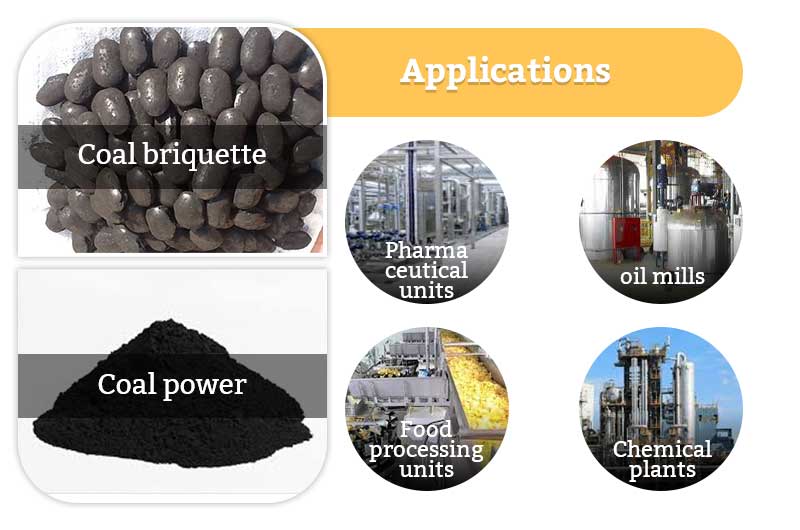 applications of the coal briquette
Charcoal Briquette
The charcoal briquette is a significant commodity around the world. It is an important source of culinary energy in cities and a major product of national and regional trade, so it is also important for rural livelihoods. There is a huge demand for charcoal briquettes in most countries in Africa, Middle East, Asia, Europe and Americas. It is widely used in food chains, hotels, poultry farms, gasifiers, boilers, blast furnaces, power plants, foundries and so on.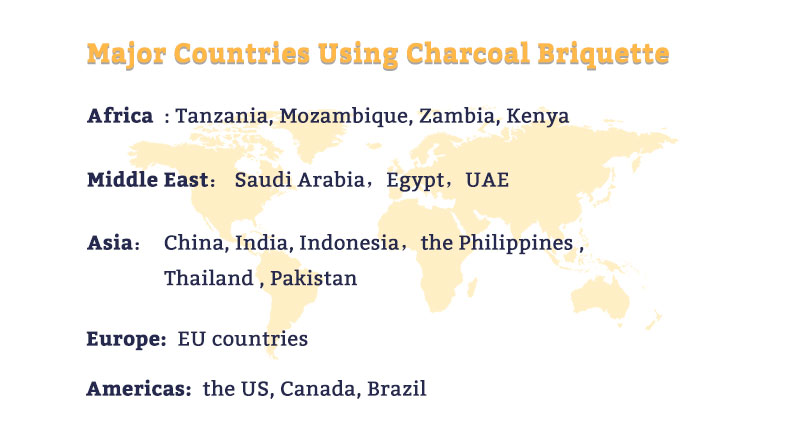 A women entrepreneur from Kenya started her business by making charcoal briquettes from municipal waste. She purchased a briquette machine to produce the charcoal briquettes for 150,000 Kenyan Shillings (Ksh) (USD1,470). Then she purchased charcoal dust and other materials from different places around the city, which are priced at no more than 4.5 Ksh per kilogram.
She got the charcoal briquettes by putting charcoal dust, paper and other binders together to the charcoal briquette machine and then sold them to neighboring schools, hotels and households. Production can go up to two tons per day, which she sells at 25 Ksh per kilo. It means that she can make a profit of about 40,000 Ksh (USD 390) per day, which is quite amazing.
applications of the charcoal briquette
Gypsum Briquette
Desulfurization gypsum is almost the same as natural gypsum, so it can be used in building materials and other industries, among which as cement retarder is one of the most important application forms of desulfurization gypsum. But gypsum has strong viscosity, which will lead to poor transportation if it is directly used in cement production.
By using the gypsum briquette machine, its physical property will be changed, which can completely solve its problems in the cement production process. If desulfurization gypsum is widely used, the cement industry will develop rapidly.
The cement plant with production of 1 million tons/year will consume 70,000 tons of desulfurized gypsum which is about $11/ton cheaper than natural gypsum, so it will directly bring in $770,000 in revenue. If a cement plant has an annual production capacity of 5 million tons, even if natural gypsum is replaced only by 50%, it would generate a profit of more than $1.5 million and digest the by-products of the power plant. Then you can understand the purpose of the cement plant to promote the desulfurization gypsum.
Production Capacity
5 million
Consumption of Desulfurization Gypsum (tons)
350,000
Price Cheaper Than Natural Gypsum (per ton)
$11
Assumed Replacement Rate
50%
Benefits
192.5 million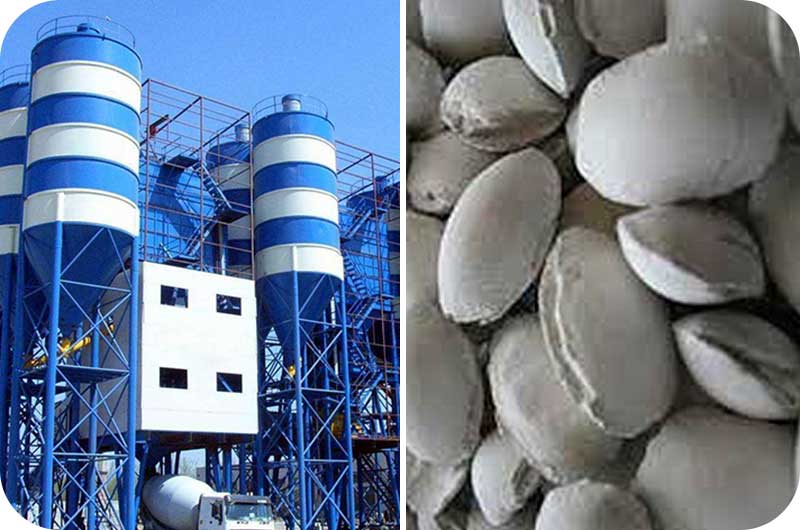 gypsum briquette as cement retarder in cement plant
FTM briquette machine can reach the pellet yield of more than 90% with rich supporting equipment. It is easy to maintain and has a low loss. We can also customize different shapes and sizes of the briquette according to your requirements. Common molding shapes are: square type, ball type, ellipse type, goose egg type, pillow type, etc. If you encounter any technical problems in use, you can contact us at any time, and we promise to provide 24-hour comprehensive technical support to solve your worries.