By: Vaedy Xiao October 24, 2019 Last Updated :October 24, 2019
What Are the Best Sizes of Crusher Run Gravel for Driveway?
What types of gravel is used for driveway?
Crusher run gravel is actually a kind of crushed stone, there are 8 eights kinds of crushed stone, and their functions are shown in following chart.
| | | |
| --- | --- | --- |
| Crushed stone | size | application |
| #5 | from 1″ down to fine particles | road and paver base. |
| #67 | from 3/4″ down to fine particles | fill, road and slab base |
| #1 | from 2″ to 4″ | culvert ballast, largest |
| #8 | from 3/8″ to 1/2″ | oncrete and asphalt mix |
| #3 | from 1/2″ to 2″ | drainage and railroad projects |
| #10 | stone dust | fabrication of concrete blocks and pavers and for riding arenas |
| #57 | 3/4″ | concrete and asphalt mix, driveways, landscaping and French drains |
| #411 | A mixture of stone dust and #57 stone | driveways, roads and as a base for retaining walls;patch holes in paved areas; |
What are the best sizes of gravel for driveway?
HXJQ engineers are often asked to make a recommendation regarding the type of gravel we would use on a driveway. There's a couple of considerations such as a drainage consideration and an aesthetic consideration.
Typically, there is one or two products crushed by concrete jaw crushers that you would use, the first being three-quarter inch road base which the particle sizes are 3/4 inch, right down to quite a fine sand or powder and this product will compact very nicely, it may have to be the top dress over the years depending on the weather conditions and the driving conditions on your driveway.
Another product that is maybe a little more aesthetically appealing could be the three-quarter inch clear crush which is exactly what it says it does not have any particles in it, it is just three quarter inch angular gravel and another choice could be a half inch clear crush as well, in my estimation, the half inch clear crush tends to knit a little better together and does not spread as much you know, with heavy traffic. Some people may opt to have three or four inches of road base down first and have it leveled and compacted and then top dress with a three-quarter or a half inch or you can just leave the three-quarter inch road base as once its been properly compacted.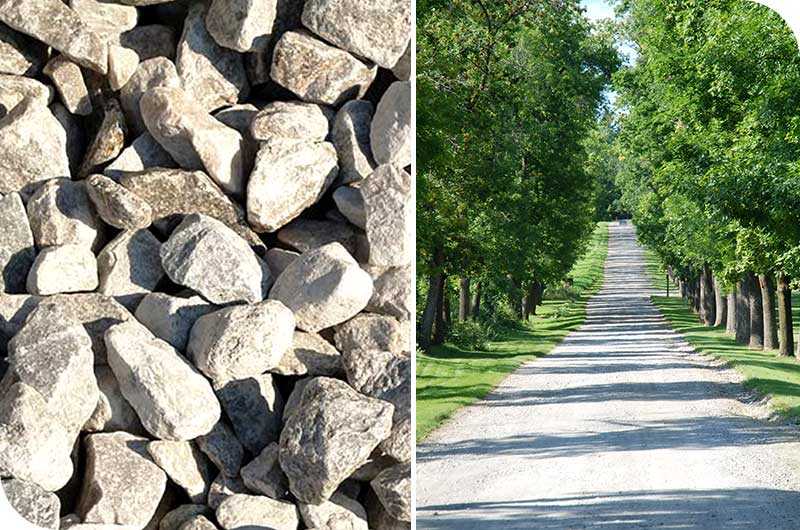 Three quarter inch angular gravel has fine particle size
This is an example of 3/4 inch road base you can see the particle sizes and the large 3/4 inch and then down to a finer powder so this compacts very well once been graded.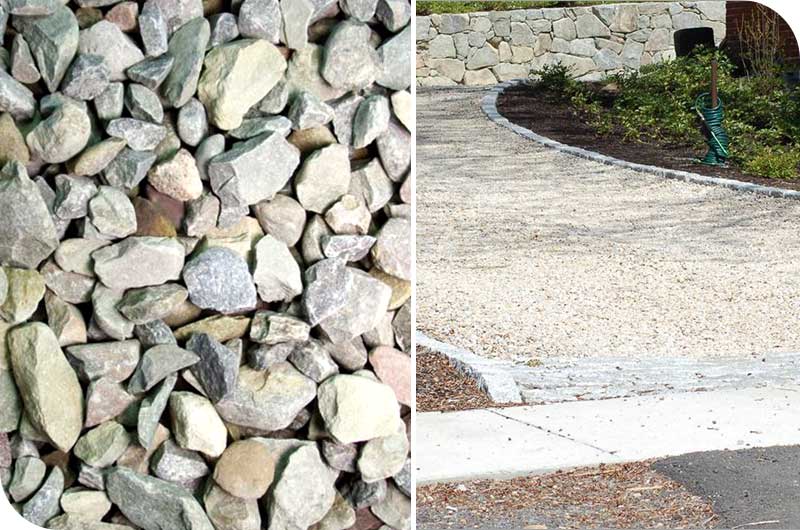 One-half inch is quite aesthetically appealing
This is 1/2 inch clear crush gravel, it's used commonly for either pathways and/ or driveways. it's a nice size and I find it quite aesthetically appealing once its been washed and the dust is off. it looks quite good.
So, those are some of your choices for driveways in terms of gravel.