What is a magnetic separator machine?
Magnetic separator is a kind of equipment that separates magnetic metals from other impurities according to the magnetic characteristics of the metal materials. Magnetic separator is widely used in resource recycling, timber, mining, ceramic, chemical and other fields, and is suitable for wet magnetic separation of magnetite, pyrrhotite, roasting ore, ilmenite, and other materials with particle size less than 3mm. In addition, coal magnetic separator is used to de-iron for coal, non-metal ore and building materials. So we can say that magnetic separator is one of the most widely used machines.
Two types of magnetic separators are dry magnetic separator and wet magnetic separator. And the wet magnetic separator is more commonly used. The magnetic separator is used to move all mineral particles in a certain way (dry selection magnetic separator uses the belt and wet magnetic separator uses a flowing slurry).
You can get the iron ore under the movement of a non-uniform magnetic field, and the separation of ore particles is achieved by the action of magnetic and mechanical force. Different magnetic ore particles move along different trajectories and they will be sorted into two or more separate mineral processing products. The magnetic separator deaign is also unique. It is made of high quality ferrite material or with rare earth permanent magnet material. According to the needs of user, China Fote provides a variety of different forms of strong magnetic separation, such as downstream, semi-reverse, and counterflow.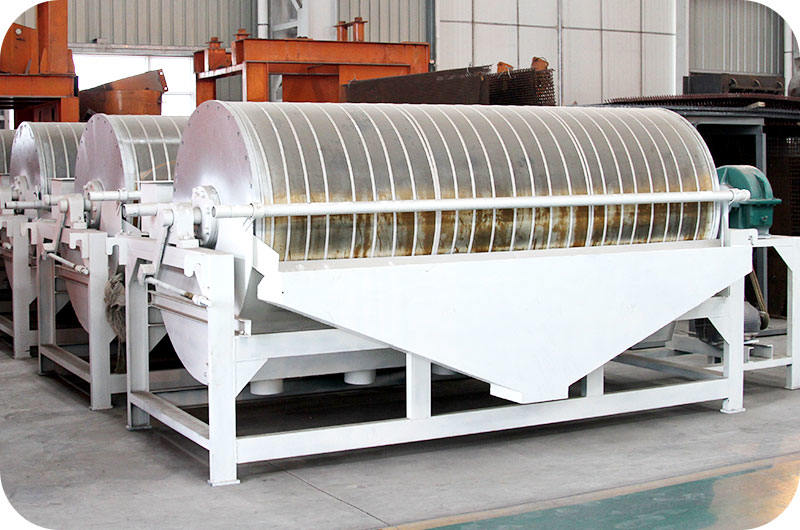 Magnetic separator equipment
Dry magnetic separator
Dry magnetic separator is energy-saving, efficient and environmental friendly. It can separate lean mine, river sand, and tailings. No water is used in the whole process of mineral processing, and there is no secondary pollution. With it, poor mines become rich, and fine powder grade is improved, a tail throw is lower than the national standard. Fote company specializes in dry selection equipment (dry magnetic separator, river sand dry magnetic separator, permanent magnet iron remover, purification magnetic separator).
Because there is no water in the process of beneficiation, the dry magnetic separator can be widely used in waterless, seasonal water-deficient and cold regions and refractory materials, carbon, coking plants, fly ash, abrasives, coke, steel and steel slag.
Web magnetic separator for iron ore
The wet magnetic separator is used to separate the magnetic minerals of fine particles or remove the mixed magnetic minerals from non-magnetic minerals. It is usually used in metallurgical, mining or the concentrating plant. The wet magnetic separator has a high magnetic field and is not easy to demagnetize. A magnetic rare earth neodymium NdFeB magnet and ferrite magnet composites the magnetic system.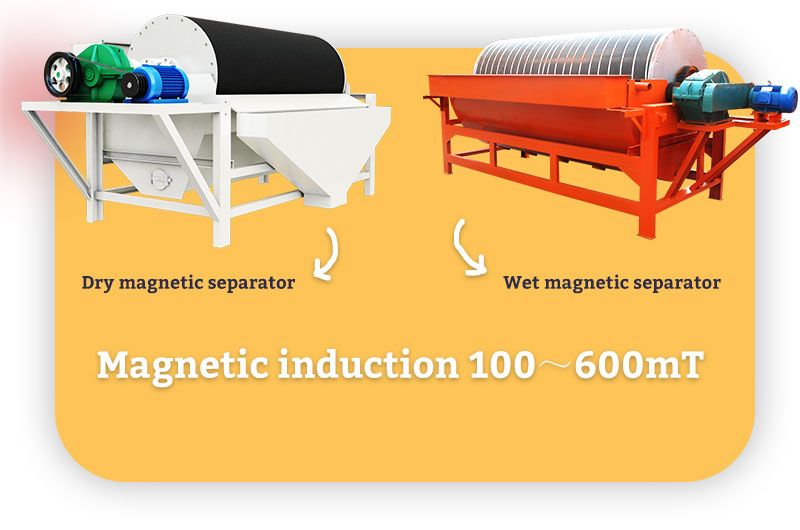 Dry magnetic separator VS Wet magnetic separator
Applied raw materials
Many kinds of minerals can be separated by magnetic separator like manganese magnetite, limonite, hematite, siderite, ilmenite, wolframite, manganese ore, manganese carbonate, metallurgical manganese ore, manganese oxide, iron ore mine, kaolin, rare earth ore, etc. so that magnetic separator is also known as hematite beneficiation plant and iron ore beneficiation plant. The magnetic separator uses the magnetic force and mechanical force affect the ore particle to conduct separation. Ore particle with different magnetism moves in a different track so that two or several products can be separated.
How does magnetic separator work?
After the slurry is fed into the tank by the feeding tank, the ore is loosely fed into the feeding area under the action of the water. On the influence of the magnetic field, ore particles with magnetism are aggregated to form a "magnet" or "magnetic flux".Subjected to magnetic force in the slurry, they move toward the magnetic pole and are adsorbed onto the cylinder.
Since the polarities of the magnetic poles are alternately arranged in the rotating direction of the cylinder, the iron ore is fixed at work. When the "magnet" or "magnetic flux" rotates with the cylinder, magnetic agitation will appear. The non-magnetic minerals such as gangue mingled in the "magnet" or "magnetic flux" will be falling off with flipping.
The "magnet" or "magnetic lotus" that is finally sucked on the surface of the cylinder is the concentrate. The concentrate passes to the weakest point of the magnetic system with the round barrel and is discharged into the concentrate tank under the action of the flushing water sprayed from the unloading water pipe. If it is a full magnetic roller, we can use the brush roller to unload the ore. Non-magnetic or weakly magnetic minerals are left in the slurry and discharged outside, which is the tailing.

Woring principle of magnetic separator vedio
Application cases
1.Purification of fine-grained clay minerals (kaolin, bauxite, and so on): remove dying of fine weakly magnetic impurities in the clay mineral particles (Fe2O3, TiO2);
2.Reduction of Fe2O3 content in quartz, feldspar, barite;
3.Reduce the content of copper in molybdenum concentrate;
4.Coal ash removal of sulfur;
5.Selection of rare-earth minerals, beach placer, and other useful minerals;
6.Continuously remove abrasive particles in lubricating oils and lubricating oil recovery and recycling;
7.Liquid filtration in chemical, apparatus and oil industry; recycling and purification catalysts and other useful items;
8.Feeding water and condensate filtration in nuclear power stations and thermal power plant;
9.Purification of industrial waste water and domestic sewage.

Magnetic separator process
Magnetic separator supplier—–FTM Machinery
If you have any project about the mining like iron ore, FTM Machinery can provide you the equipment you want. Besides, we have the complete after-sales service system, so you don't be worry about the installment or technical support problems. Welcome to FTM company for a visit or you can consult online for more details.