What is Grinding rod mill?
Grinding Rod mill is one kind of grinding machine and named after the grinding media—steel rod and generally wet type rod mill is preferable. Rod mill in China can be used as primary open-circuit grinding machine and widely used as a primary mill in the electrical apartment in artificial sand making, ore beneficiation plant, and chemical plant. The rod mill working principle is the same as ball mill's.
The rod mill is named after the grinding body loaded in the cylinder—-steel rod. It usually adapts wet overflow type and can be used to one level grinding for opening a road, artificial stone sand, concentrator, and chemical plant power department. When you grind mining for two stages if the first section is ground from 20-6mm to 3-1mm, then using the rod mill. It has large production capacity and high efficiency.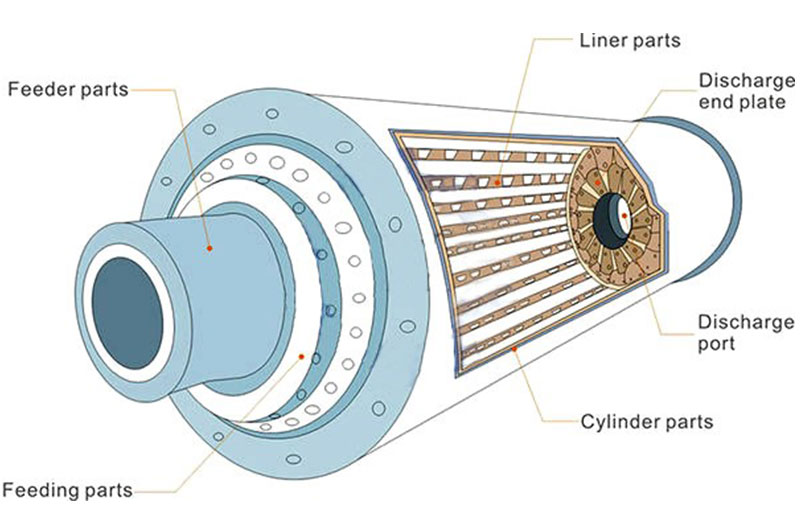 Internal structure of the rod mill
Rod mill common model and parameters
Gennerally, the bigger the mode, the more capacity the rod mill is. Here is a brief introduction to several types of rod mill models with high usage rates.
1.MBS1224 rod mill. The rod mill critical speed is 36r/min. Feed granularity is less than 25mm. The granularity of finished material is 0.833-0.147mm. Motor power is 30kw. Rod mill can process 1.1-4.9 tones material per hour.
2.MBS1830 rod mill. The rod mill critical speed is 25.4r/min. Feed granularity is less than 25mm. The granularity of finished material is 0.833-0.147mm. Motor power is 130kw. Rod mill can process 4.8-11.6 tones material per hour.
3.MBS2736 rod mill. The rod mill critical speed is 20.7r/min. Feed granularity is less than 50mm. The granularity of finished material is 0.833-0.147mm. Motor power is 380kw.Rod mill can process 32-86 tones material per hour.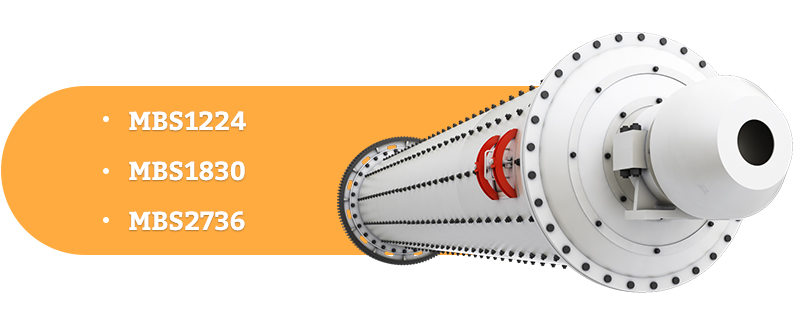 Rod mill with different parameters
Characteristics of China Fote rod mill
1.Compared with traditional equipment, Fote wet type rod mill can save energy by more than 40%. Uniform product particle contains a few large particles and slurries. In contrast with the product particle of ball mill, the product particle of open-circuit rod mill has nearly the same
2.Rod mill adopts advanced controllable rod grinding technology, combining the actual needs of the clients arrange suitable grinding media. Different from the traditional surface contact of ball mill, the line contact makes more uniform particle and high productivity and is suitable for ore with different hardness (Mohs hardness 5.5-12).
3.Product size adjustment is convenient. The Fote Machinery experts have optimized and improved feeding port and discharge port. The operator can adjust the particle size of material by adjusting the size of inlet and outlet ports, which alow the rod mill particle size distribution is uniform.
4.3.Energy saving and low cost. During the operation of equipment, the power consumption per unit time is only 50% of ordinary rod mill, which saves investment costs for the processing plant.
5.Strict sealing and less dust. The inside of the cylinder is fully enclosed, which not only prevent foreign matter from entering the inside and causing damage to the molybdenum rod mill, but also prevents the dust from flying out. The dust pollution is greatly reduced, and the working environment is improved.
6.Stable operation, high productivity and efficiency. Unique structural of rod mill design makes it very stable during operation and can be continuously operated for a long time.
7.Reasonable lubrication design and high safety performance. The unique lubrication device effectively avoids the accident when the molybdenum rod mill is working, and the production process is more safe and reliable.
Two major application of rod mill
1.Reselection or magnetic separation in tungsten-tin ore or other rare metal ore. In case the over-crushing, wet type rod mill or rod grinding mill is often selected.
2.Aluminum rod mill process is widely used in the beneficiation plant. Molybdenum ore is a metal mineral with very high utilization value. It has excellent corrosion resistance, and high strength, so is widely used in chemical, metallurgical, refractory materials, environmentally friendly materials, building materials and other industrial fields. After the molybdenum ore is crushed and grinded, the comprehensive utilization rate of molybdenum ore can be greatly improved.
The price of rod mill
When purchasing the rod mill, the user pays more attention to the price of the rod mill in addition to the performance, quality, manufacturer strength, grinding effect and other factors of the rod mill. Because of the different grinding process, different types of rod mill, the price of rod mill from different manufacturers varies. In addition, we also have the rod mill with screens. Therefore, if you want to get the latest quotation, you can leave a message on our message board and our technology manager will send you the latest quotation.
Besides, FTM Machinery allows every customer to have a test for his raw materials in our plant. We also have the perfect after-sales system. Once you ordered, we will ship equipment within 24hours. Welcome to FTM Machinery for a visit.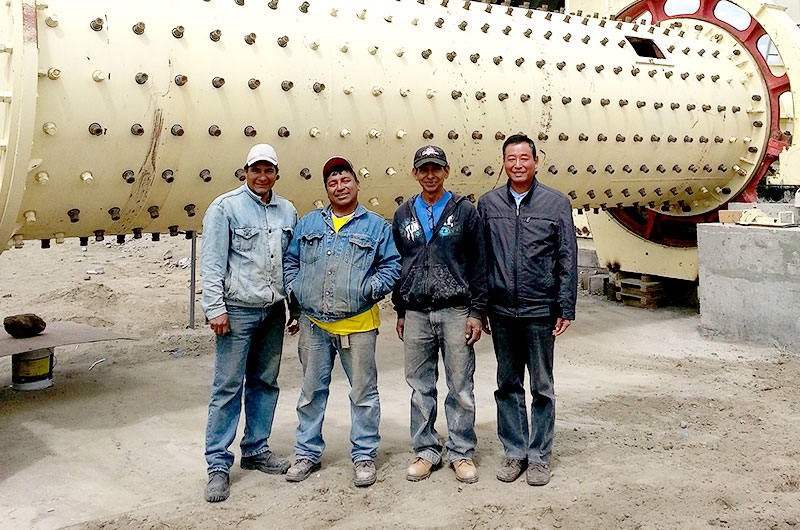 Taking photos with customers at the rod mill production site of Zambia