Features of the tyre mobile impact crusher
1.It integrates feeder, impact crusher, screen, and conveyor together, which reduce the consumption of raw materials and working time. Further more, it can reduce cost a lot.
2.Fote Machiery adapts mature technology to manufacturer the tyre mobile impact crusher with reliable performance. Besides, it is easy to maintain.
3.It can crush the stone at site flexibly.
4.The tyre mobile impact crusher is adaptable and flexible. It not only can work independently, but also can work with unit joint.
5.Both Oil and electricity can drive it to work. It is equipped with the motor with powerful horsepower, which makes it possible that the tyre mobile impact crusher still can operate even under the situation of no electricity in remote areas.


Tyre mobile impact crusher
Overall design
The tyre mobile impact crusher has a high chassis and weights a little. The width of the its body is smaller than that of the g semi-trailer. Each module is loosely arranged in space.
Mobility
Tire-type mobile impact crusher station can move freely and easily, steer in situ, transport, climb under the traction of truck. Because of the tire walking mode, it does not damage the road surface and is convenient to transport for long distance site.
Stability
Compared with the fixed crushing production line, the stability of mobile crushing station has a certain impact on working efficiency of the equipment.When the tyre mobile impact crusher is working, it needs the hydraulic legs under the frame to improve its stability.
Besides, the tyre mobile impact crusher have some requirements on the crushing site. If the crushing site's land is the hardy rock, the mobile crusher will not be sink and work efficiently.On the contrary, the equipment will have poor stability and low efficiency.
Thus, even the tyre mpbile impact crusher can work at various sites, it still need to adjust and make preparation before working.
Self-circulation design for vortex cavity to protect environment
1.The air in the vortex cavity flows cyclically, which will absorb the dust to reduce pollution.
2.Double dust filtration system cover the whole process, and this will reduce the pollution a lot.
3.The sprinkler at crushing site will reduce the dust.
4.Silencing device effectively avoids troubles from nearby residents and contributes to the social environmental policy.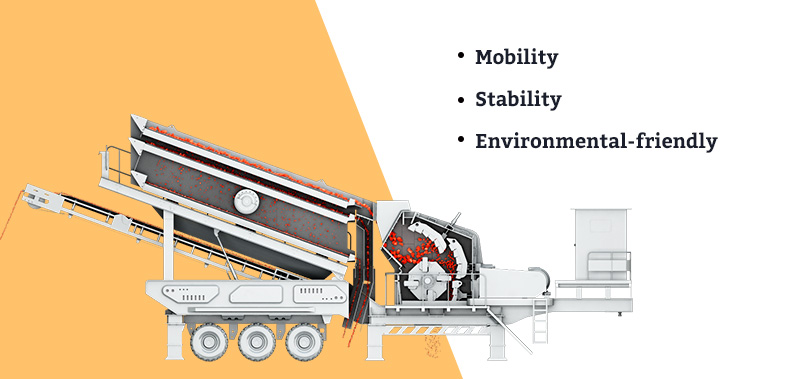 Features and working principle
Tyre mobile impact crusher plant
The stone materials will be transport to the impact crusher by feeder, and the crushed stone materials will be delivered to the screen. The mobile crushing station can remove the circular vibrating screen according to the actual production needs.It is easy to operate with other crushing equipment.