Two different types of portable crusher
There are two kinds of portable crusher equipment in FTM Machinery: Tire type portable crusher and Tracked portable crusher. Besides, there are mobile construction waste crusher, vehicle portable crusher, mobile stone crusher, vehicle mobile sanding machine, etc. And our professional technicians will tailor the portable crusher for customers.
Tire type portable crusher is a mobile crushing device as a whole. FTM Machinery introduces foreign mature manufacturing process, using tires as a chassis to manufacturer the tire type portable crusher. It has a small volume, full functioning, can move and operate conveniently, and match different kinds of crushers flexibly. In addition, it can work in the production site directly without any preparation, which significantly saves equipment installation time and transportation costs. It also doesn't occupy a large space and has a low investment.
The crawler-type portable crushing station keeps pace with the tire mobile crusher and plays an important role in portable crushing equipment. The tracked portable crusher can craw on the intertwined construction waste site, rugged mountainous terrain, etc, which breaks the limits of conventional terrain. Besides, the configuration equipment can be installed reasonably according to the site conditions. Its model is complete, and the species are various.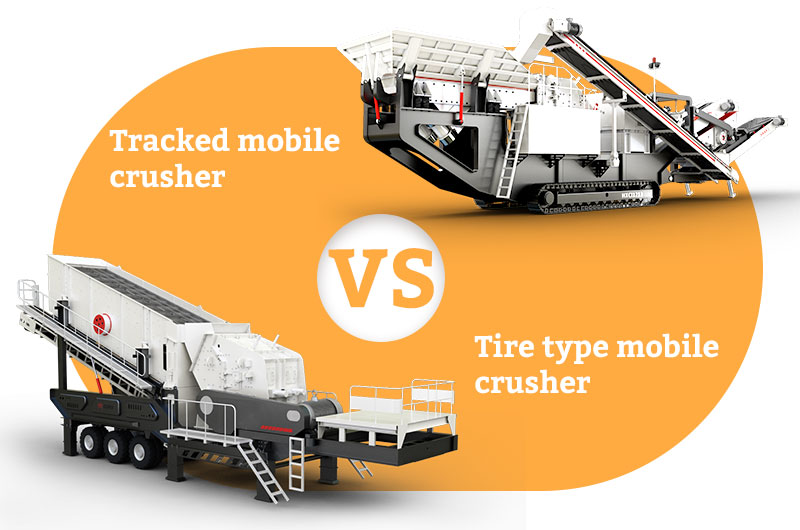 Tire type portable crusher VS tracked mobile crusher
Applied materials
Portable crusher combines with the advantages of domestic portable crusher and foreign high-tech production technology. It only can move flexibly, but crush various raw materials like limestone, granite, river pebble, dolomite, marble, construction waste, coal, etc. The crushed material can be used for construction, railway, highway, airport construction, etc.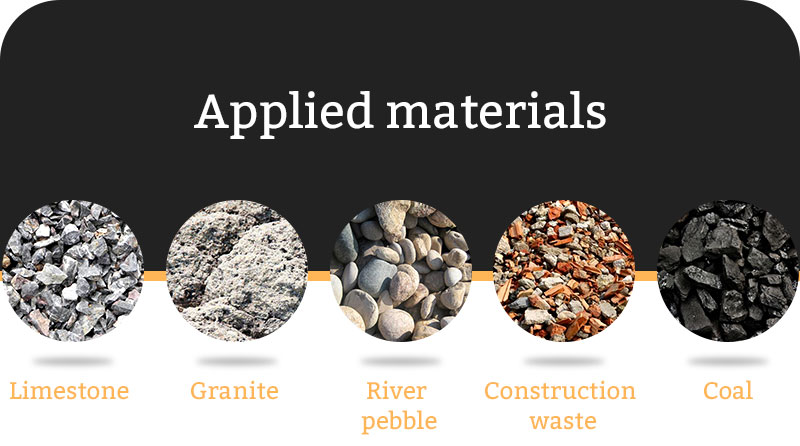 The portable crusher can process many kinds of materials
Different combination of the portable crusher
FTM Machinery can match corresponding portable crusher according to user's actual production requirements. The configuration can be the "First crushed and sieved" or the "First sieved and crushed". It can be also combined into a coarse crushing, medium crushing, fine crushing two-stage crushing screening system, and can operate independently.
Coarse configuration
The main crusher can use the jaw crusher no mater which type it is.
Broken configuration
Impact crusher or cone crusher(including spring, full hydraulic, multi-cylinder hydraulic, horizontal bar hydraulic or composite)
Fine configuration
HVI, VSI and HX series of sand making machines can be equipped with the circular vibrating screen on the portable crusher. Users can choose the appropriate type and model according to their material properties and production needs.
Advantages of portable crusher
1.Using both Oil and electricity to run the portable crusher. The device has its own motor system, which can switch the oil-electric dual-use mode with one button. And the portable crusher fuel consumption is low and can work efficiently.
2.Unit integration and flexible movement.The portable crusher eliminates the inconvenience caused by the site and complicated basic configuration. This reduces the cost of transportation. The single mobile crusher can reach the crushing effect of a multi-machine joint operation.
3.Variety of options. There are various working modes. A portable crusher plant consists of primary crusher, secondary crusher, conveyor belt and screen. The portable crushing plants at all levels are independent working units, which can fulfill their respective duties.
4.Needn't to lay foundation. The performance of the crawler type portable crusher is stable, and it is not necessary to lay foundation after entering the site and work directly, which saves time and effort and, reduces the cost of investment.
5.Strong maneuverability. The portable crusher has a compact structure and small turning radius, so it is convenient for conversion, entering and exiting. Furthermore, it has low requirements for road transport loading conditions.
6.Energy saving and environmental protection. In order to better service for the customer, FTM Machinery portable crusher has been improved in terms of energy saving, and special treatment has been done in environmental protection. The whole working process is sealed, producing less dust and noise, and equipped with professional dust removal and noise reduction equipment, which ensures environmental performance.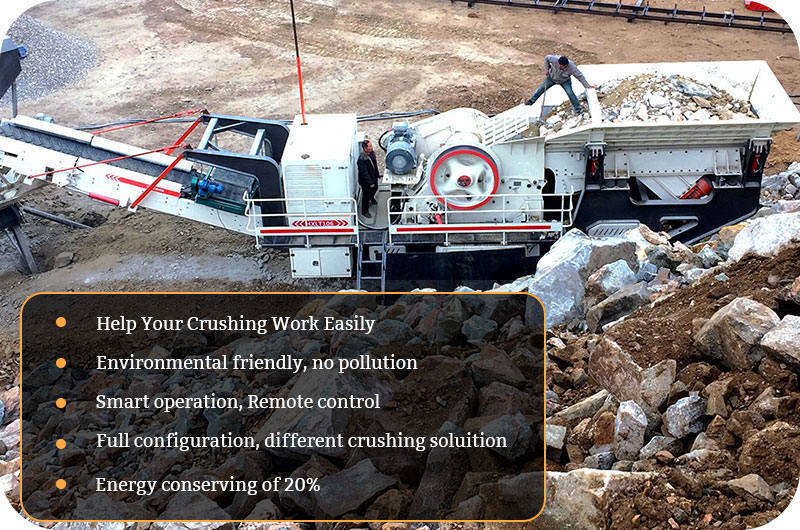 portable crusher site in Philipines
Discharging Sizes of portable stone crusher
According to the different types of stone crusher equipped like jaw crusher, hammer crusher, cone crusher, etc, the discharging sizes of portable crusher are different, from the scopes of 0-5mm, 5-10mm, 10-20mm, 16-31.5mm, 10-15mm, 15-20mm, etc.
Take the example of construction and demolition wastes, they are crushed and recycled by portable stone crusher machine into different sizes. For different sizes of stones, they are used in different ways like road base, brick making, mixing material making, concrete making, etc.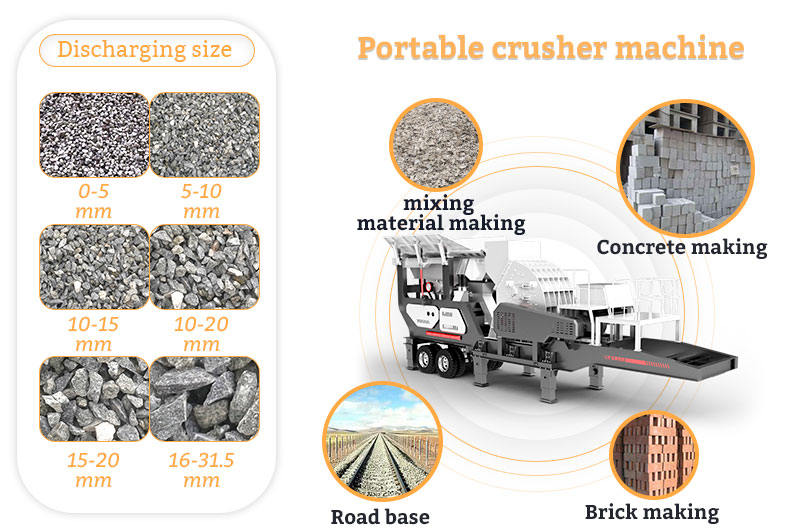 Portable crusher discharging size with crushed stone applications
FTM Machinery has exported 15 portable hammer crushers and 26 portable jaw crushers to south africa, philipines, indonesia, laos, etc. They are mostly used for aggregate and sand production with sizes from 1/4 inch to 1/2 inch, 1/2 inch to 3/4 inch. (1 inch =25.4 mm)
Case in Indonesia
Raw material: Tailings
Capacity: 200t/h
Device configuration: Tire type portable jaw crusher
Project introduction: Here is the portable jaw crusher line with the capacity of 200TPH, and this production in line with national standards. Our portable crusher capacity is about 500TPH. According to customer's demand and product performance, FTM Machinery's portable jaw crusher works stably, has complete functions and is more practical. The capacity of the whole portable jaw crusher station is improved a lot.

The portable crusher production site in Indonesia
How does a portable rock crusher work?
First, the raw material is delivered to the feeder through a conveyor belt. Then, the crusher will crush the material. The crushed material will be screened through the screen. The material that meets the crushing requirements is output by the conveyor, and the material that does not meet the requirements is again broken into the crusher. The whole mobile crusher forms a closed-circuit system through a circular vibrating screen to realize the cyclic crushing of materials, and the finished material is output by the conveyor.


The portable cone crusher is working
Free testing
The mobile crusher manufactured from FTM Machinery adopts the PLC control system and touch display. The equipment is highly automated and is cast by the wear-resistant steel. The mature manufacturing process increases the wear resistance of the equipment and prolongs its service life. Moreover, the device has its own motor system, which can switch the oil-electric dual-use mode with one button, and has low energy consumption and high work efficiency.
Then, how much is portable crusher? FTM Machinery's portable crusher is for sale, and the price of portable crusher is cheaper than other same manufacturers. If you want to buy mobile crusher, you can lease your message on our message board, and welcome to our company for free testing.