Processing materials: cobble, quartz marble, etc.
Production capacity: 300-350 tons/hour
Cobble used in the sand making plant
At present, the demand for sand and gravel aggregates in infrastructure and real estate projects is rising rapidly. Natural river sand mining is depleted, and some sandstone suppliers reduced production due to environmental protection problems. Therefore, the prospect of sand making the market is bright. Many people have seized this opportunity to invest in the production of sand making factory. And the cobble stone is the better raw material.
Cobble sand making plant is the common process for the cobble. It not only has a large breaking ratio, high capacity and degree of automation but also has low cost, is environmentally friendly. Generally, it can work smoothly. So it's popular among customers.
The cobble sand maker plant is a production line that carefully matched by Fote company according to the nature of cobblestone materials. It is a set of energy-saving and environmental protection equipment for crushing and sand making, and its output capacity is higher than other production lines. In addition, the cobble sand production line can make all kinds of rocks, and river pebbles into construction sands of various sizes.
The finished sand granularity is uniform and has high compressive strength, which is more in line with the construction requirements than the sand produced by natural sand and ordinary hammer sander, and can improve the construction quality.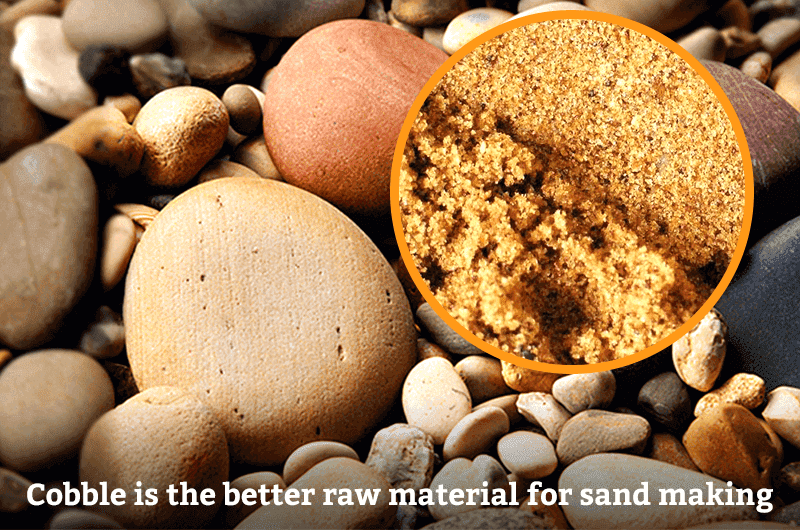 Cobble
Flow chart of cobble sand making plant
Equipments: belt conveyor, sand washer, vibrating screen, sand making machine, jaw crusher, vibrating feeder and other related equipment.
Production situation: first, primarily crushed stone and transport coarse materials to impact crusher for further breaking. After fine broken materials being delivered to vibrating screen for screening, the materials meeting the granularity requirements of the finished product will be fed into sand washing machine for cleaning;
After cleaning, the materials are outputted by conveyor, that is the finished product; Materials do not meet the size requirements will return to the sand making machine to be crushed again, which forms a closed-circuit manifold circulation.

Flow chart
Configuration
For the daily production of thousands of tons of cobblestone sand production line configuration, FTM Machinery can provide you with the folowing two common configuration options.
Plan A
Capacity:200-250t/h
GZD-1100 * 3600 vibrating feeder+PE-750 * 1060 jaw crusher+ SC160S cylinder cone crusher+ HVI 0818 impact sand maker+2H*2165 vibrating screen+ 3020 sand washer+conveyor belt
Plan B
capacity:200-300t/h
GZD-1100 * 3600 vibrating feeder+PE-800 * 1060 jaw crusher+ PF-1315 impact crusher+ HVI 0922 impact sand maker+2H * 2165 vibrating screen+ 3020 sand washer+conveyor belt (its length and size will be planned according to the specific process. )
In addition to these two production lines, there are many other configurations for the cobble sand making line of 200TPH. For example, the two links of crushing, the secondary crushing can use the PEX jaw crusher or a hammer crusher that shapes the material one time without secondary crushing.
Advantages of cobble sand making plant
1.The high degree of automation. Not so many people are needed on the production site. Its advantages of the scientifically arranged production plan, high production efficiency, large output, and strong wear resistance of spare parts will allow the production line to work normally.
2.Low carbon and good environmental protection. In the operation process, the dust overflow is less, the components are arranged reasonably, the working noise is small, and the whole production line is compounded by national standards. The finished products have excellent grain shape, belonging to high-quality stone raw materials. Its market prospect is bright, creating high economic value.
3.The granularity of finished product can be combined and grading according to the needs of users. The whole system of sand production line has high degree of automation, low running cost and high broken rate. The finished manufactured sand conforms with national building sand standards, with uniform granularity and reasonable distribution, and our company can combine the various types of equipment to meet customer's different technological requirements.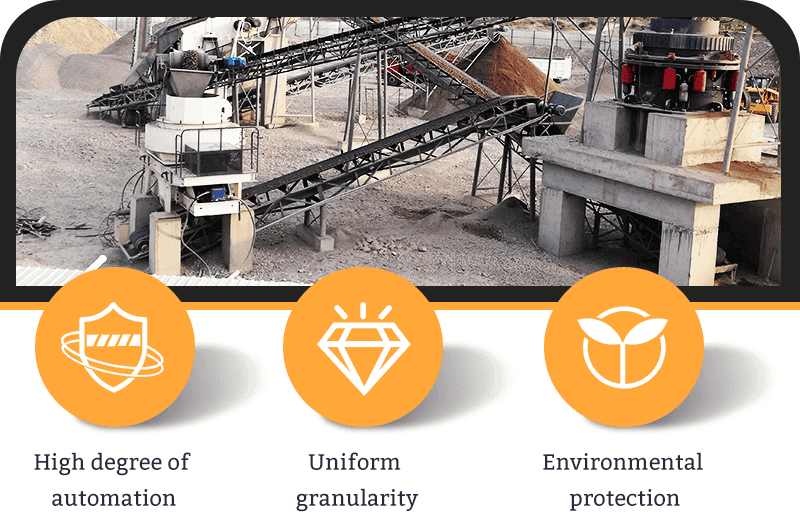 Advantages of cobble sand making plant
The cost of investment on the cobble sand making plant
The investment cost of the entire production line includes the purchase cost, operating cost and freight. In the later operation process, equipment quality is very important, and poor quality equipment has a high failure rate and short life.
Therefore, in order to achieve high yields, it is necessary to use qualified sand equipment. In addition, FTM Machinery's after-sales service is also very important. The perfect after-sales is your strong backing, can solve a lot of troubles and unnecessary expenses for you.