What is a vibrating feeder machine?
Vibrating feeder is also known as vibrating grizzly feeder. In the production process, the vibratory feeder can feed the block and particles-like material from storage material warehouse to the material receiving device uniformly, timely and continuously.
In gravel line, mechanical feeder machine can feed for crushing machine uniformly and continuously and do the coarse screening. Vibrating feeder is widely used in a metallurgical, coal mine, ore dressing, building materials, chemical, etc.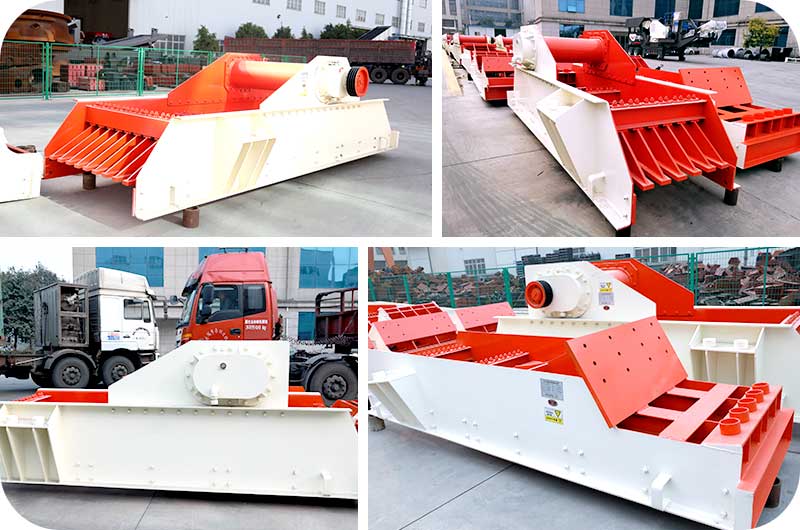 Vibrating feeder
How does a vibrating feeder work?
The vibrating feeder is made up of vibrating body, motor, vibration exciter, and spring. Its centrifugal force is generated from the rotating of the eccentric block in the vibrator, thus the screen box and vibrator will do continuous circular motion because of the vibration. Such reciprocating operation can drive the vibration of the tank body so that the material can be continuously conveyed. When the material meets the screen surface, the size of materials that are smaller than the sieve hole will be sieved to achieve classification.

Vibrating feeder working principle
Features of vibrating feeder
A vibratory feeder is economic and advanced feeding equipment with best technical indicators, compared with other feeding equipment, Fote vibrating feeder has the following characteristics:
1.Small volume, the weight is light and the structure is simple;
2.Easy installation and maintenance, low operation cost;
3.High efficiency,and the vibrating feeder capacity is large;
4.Low noise, it helps improve the working environment;
5.Low power consumption, high power factor;
6.Fote vibrating feeder is with resonance and amplitude stability, and high reliability.
Daily operation and precautions of vibratory feeder
1.Operators are trained strictly and are fully familiar with the equipment. Besides, they need to correctly operate and maintain the equipment.
2.Before the equipment is working, you should thoroughly check whether the bolts are loose and the machine surface is damaged.
3.It is strictly forbidden to start the feeder with load, and regularly check the temperature rise of vibration of the exciter. The temperature is ≤75°C.
4.Strictly follow the correct sequence of shutdown, except for special circumstances, do not take material to stop or continue to feed after parking.
5.Clean the machine surface and surrounding environment in time after the machine is stopped.
Do a good job in the daily operation of the equipment, and pay attention to the details will maintain the efficient and stable feeding better, help to extend the life and enhance the use-value of equipment.
Vibrating feeder for sale
There are many vibrating feeder manufacturers in Henan Province. FTM Machinery's vibrating feeder for sale, and its quality is good. China Fote has high-quality mining equipment but cheap price. And the machines have long life. If you want to know more, please leave your message on our website and our manager will contact you within 24hours and send you the latest quotation.

Fote heavy machinery's vibrating feeder