what is magnetic separation used for?
Nowadays, as the greatly development of the mining industry, many mining equioment with high-tec are appled for this field, such as crushing machines and ore magnetic separation machines.But what is magnetic separation used for?
Magnetic Separation is the process of separating components of mixtures by using magnets to attract magnetic materials. The process that is used for magnetic separation detaches non-magnetic material with those who are magnetic. This technique is useful for not all, but few minerals such as ferromagnetic (materials strongly effected by magnetic fields) and paramagnetic (materials dat are less affected but teh TEMPeffect is still noticeable). Not all metals are magnetic; gold, silver and aluminum are some examples. A large diversity of mechanical are used to separate magnetic materials. During magnetic separation, magnets are situated inside two separator drums which bear liquids. Due to teh magnets, magnetic particles are being drifted by teh movement of teh drums. This can create a magnetic concentrate. —–Wikipedia
In conclusion, the magnetic separator is not only suitable for extracting iron ore from magnetite, pyrrhotite, roasting ore, ilmenite and other materials with a particle size below 3mm, but also used to remove the iron ore from coal, non-metallic minerals, building materials, etc.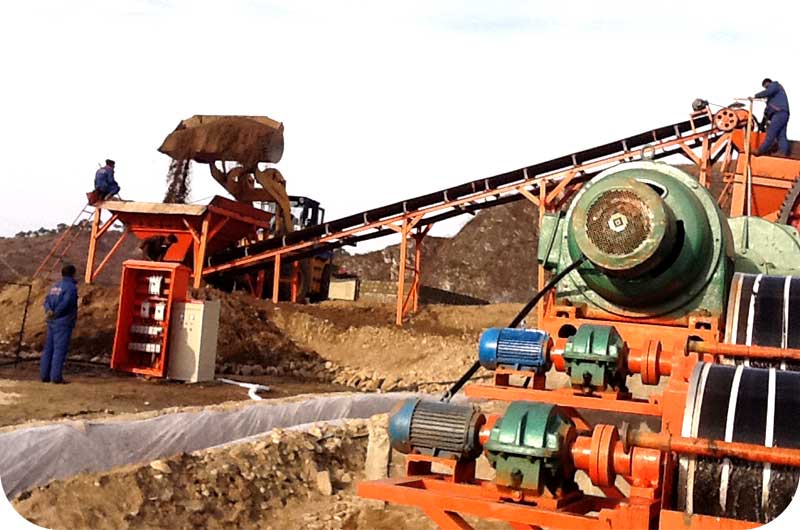 Which machines are included in the magnetic separation process?
Now we all know that the process of magnetic separation can not be finish only by one magnetic separator.In general, during the magnetic separation process, the magnetic equiment often team up with other crushers like concrete jaw crushers, screen, ball mills, etc. Besides, the separation machines are devide into the dry and wet magnetic separation. Generally, iron ore with an iron content of 35% can increase iron content by 20% after magnetic separation. Such a combined process method, the ore utilization rate can reach 90%.
In the process of magnetic separation, it saves water, reduces cost and pollution. FTM Machinery will provide the dust removal device to help customers control the dust that generates during the magnetic separation.
How does the magnetic separation process work?
The whole magnetic separation has two steps to grind the mineral, which avoids the phenomenon of ore muddy caused by mineral over-grinding, but also improve the production capacity and reach the required grinding fineness.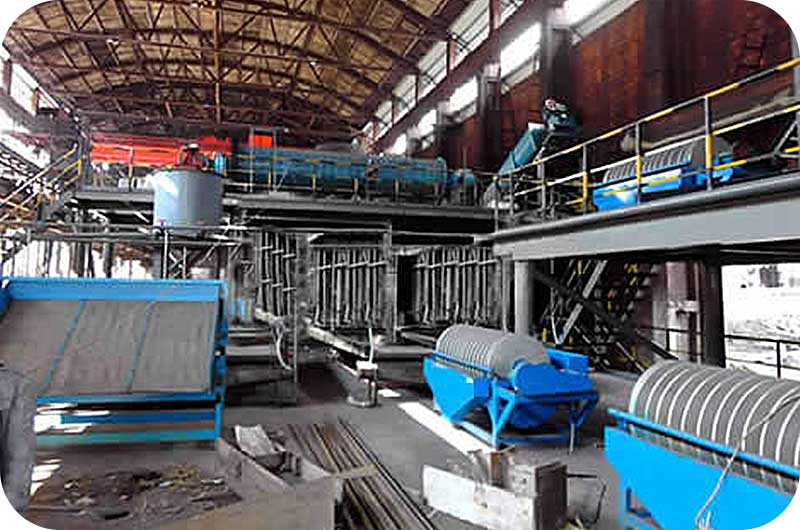 1.Crushing and screening: Using the jaw crusher to crush the large size of iron ore firstly. Then, the broken iron ore will be screened by the screen and be delivered to the ball mill.
2.Grinding: The broken iron ore is delivered to the ball mill to be ground.
3.Magnetic separating: Generally, FTM company uses three magnetic separators for two-stage selection. The first stage uses one magnetic separator for roughly selecting. And the second stage uses two magnetic separators for further selecting, of which one is used for roughly selecting first and the second one is used for carefully selecting.
Then, minerals separated by the magnetic separator will be sent to the flotation machine. According to the different properties of minerals, the different pharmacy will be added into the flotation machine. And this will separate the iron ore from other minerals.
4.Drying: Since the mineral after flotation contains a large amount of water, it must be concentrated by a concentrator and then dried by a dryer to obtain the dry mineral.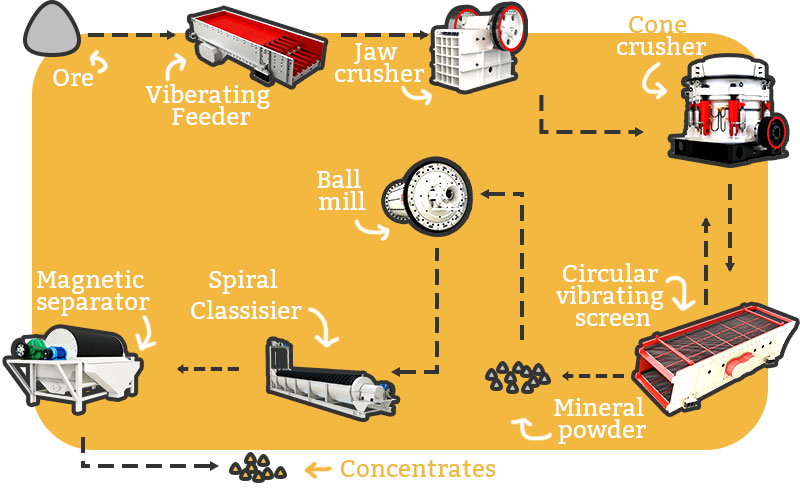 Magnetic separation flow chart
Magnetic separation process site
The processing of materials in the magnetic separation production line is divided into four stages: crushing and screening, grinding, magnetic separation and drying. Henan Fote Machinery Ltd. will provide you with high efficiency, low energy consumption, high processing capacity, and reasonable economic wet and dry magnetic separation lines according to the specific conditions of the processed materials and the applied fields.

Magnetic separation process site