10t/h Coal Gangue Crusher Price Of FTM Machinery
The development status of coal gangue
As china's main energy source, coal plays an extremely important role in social and economic development, and coal gangue is the solid waste emitted in the process of coal mining and washing process. How to make use of coal gangue has become a matter of concern? FTM Machinery researched the composition of the coal zircon, founding that the coal gangue crusher can make the coal gangue "Nirvana reborn"
Coal gangue is a solid waste discharged during coal mining and washing, and is a kind of black-gray rock with lower carbon content and harder than coal in the process of coal formation. These include the excavation of zircon during the excavation process of the roadway, the pick-up of zircon from the top plate, the soleplate and the mezzanine during the excavation, and the washing stone selected during the coal washing process. At a time when energy is increasingly scarce and the country pays more and more attention to the development and utilization of mine waste, the reuse of coal gangue has attracted more and more people's attention.
As one of the main wastes in coal development, if discarded, not only takes up a large area of land, but also the escape or leaching of sulfides in coal gangue will also pollute the atmosphere, farmland and water bodies, so it is urgent to find a "future" for coal gangue.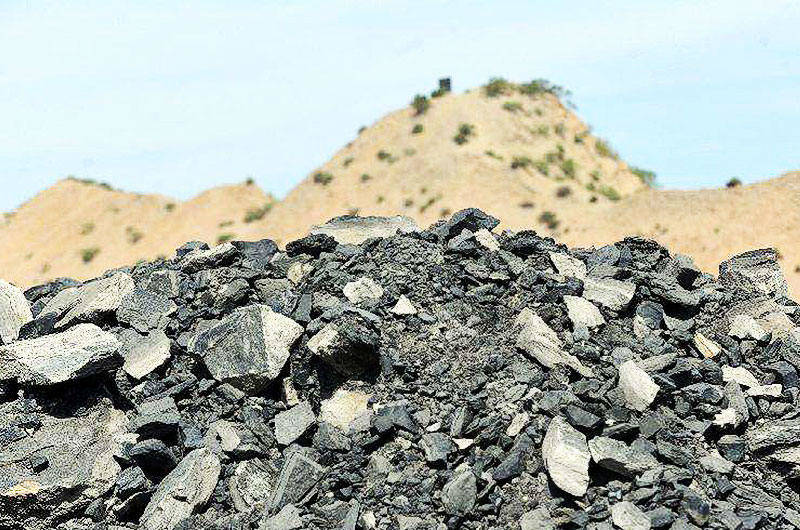 Coal gangue
What is the coal gangue used for?
In recent years, coal gangue, as a kind of resource in the chemical industry, building materials, metallurgy, light industry and other fields, have been widely used. The development and utilization of coal not only plays a huge role in promoting the social economy, but also has a significant impact on the environment. As for the comprehensive utilization of coal gangue, the main process is to break and grind it into the appropriate granularity, and then applied to the relevant fields.
At present, the available range of coal gangue is very wide. It can be used to produce construction brick that insteads of clay, wall materials, chemical products, made crafts, road-based materials,etc. A larger part of coal gangue is used for power generation, the resulting slag can be used to produce slag bricks and slag cement. If coal gangue is comprehensively utilized, this alone can save a large amount of cost for coal mining enterprises in terms of coal gangue transportation, loading, unloading, and land occupation.
Whether the coal gangue is used to produce bricks, or to make cement additives or supply electricity for power plants, it is usually processed through crushers, including jaw crusher, impact crushers, raymond mill, vibrating screen, vibrating feeder and other equipment.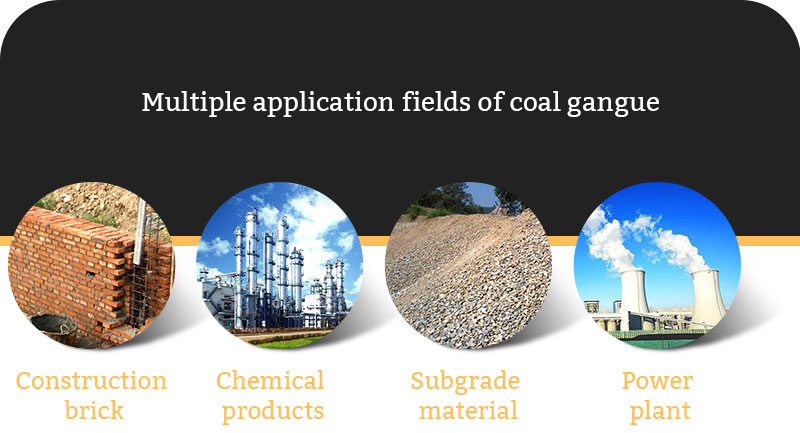 Four main application fields of coal gangue
FTM Machinery's two-stage crusher for coal gangue
FTM Machinery developed a coal gangue crusher to replace the early single-stage crusher, perfectly solve the problem of high-humidity material crushing. Besides, it has advantages of while high equipment production, low noise, low fineness, complete equipment for easy maintenance and no special installation immediately start-up.
The coal gangue crusher is mainly used for brick making. The two-stage coal crusher not only crushes the material finely, but also has no requirements for the crushed material moisture content. Since the design of coal zircon crusher is no screen and bottom, the crushing of more viscosity materials will not be blocked. Therefore, it works even on rainy days.
The range of coal-crusher crushers is wide: not only can crush coal gangue, but also crush shale, slag, cinders, slag, limestone, construction waste and more than 100 kinds of raw materials.
The advantages of the two-stage crusher of coal gangue
1.Uniform granularity, large crushing ratio, high yield, low energy consumption, can break more than 20 tons of material per hour;
2.The use of high alloy wear hammer head has shortened the retention time of material in the two-stage crusher crushing cavity, thereby improving the service life of the consumables.
3.It is especially suitable for brittle materials. The crushing process is not blocked, the dust and noise are low.
4.Fast maintenance. The side door on the upper side of the double-stage crusher can be opened in the reverse direction, which makes the inspection and repair of crusher more convenient, and shortens the inspection time.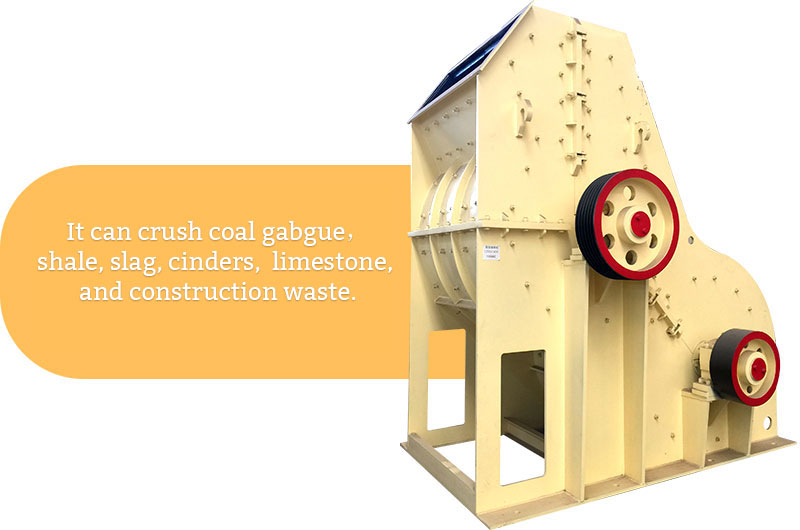 Applied materials of coal gangue
Price of a two-stage crusher of coal gangue
The price of the two-stage crusher of coltan is influenced by many factors, such as manufacturer, specification model, supply and demand, regional differences, etc. Different users will be configured with different model configurations, resulting in price varies. The price of two-stage crusher ranges from tens of thousands, hundreds of thousands, hundreds of thousands. If you want to know the specific quotation, please consult FTM Machinery manufacturer.
FTM Machinery coal gangue crusher is an effective investment choice for small and medium-sized enterprises, effectively help coal miners or customers save money. We really do want the user's thinking, and solve user's needs. FTM company always adhere to the sales philosophy of "pre-sales fire, sale of scorpion cattle, after-sales heart", and easily solve your worries. Welcome to consult our machines.
Tags:Mining, Minerals, Two-satge crusher, Coal gangue, Aggregates