Feasibility and Costing for Setting up a Manganese Ore Beneficiation Plant
In May, 2017, we successfully installed a manganese ore beneficiation plant in Oman for customer called Kubar and following comes with his requirements:
1: feasibility and costing for setting up a beneficiation plant for manganese ore mine in Oman
2: capacity is 10TPH or 5 TPH
3: flowchart: primary jaw crusher to crush the boulders and a secondary crusher for making it into fine powder, then with 10tph magnetic separator
Over four months study and work hard, FTM brand ore beneficiation plant is successfully installed on the quarry. Pictures and videos, shot by our engineers, are enclosed and shown below.

beneficiation plant for manganese ore mine in Oman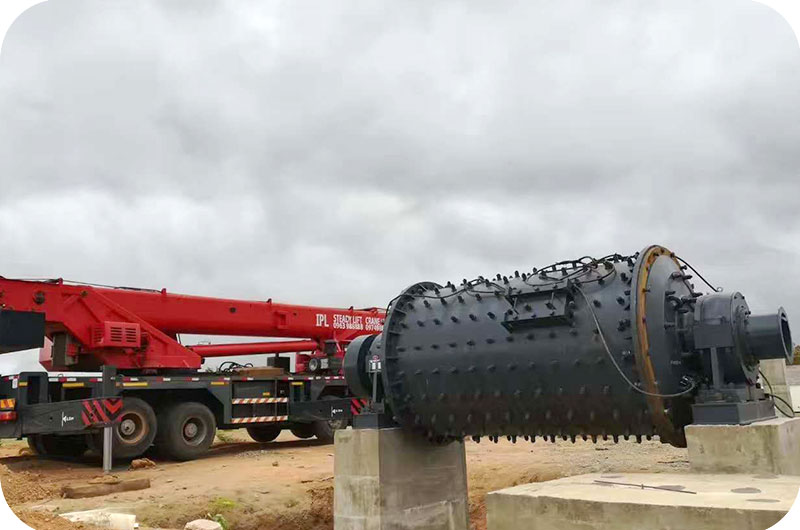 Ball mill used in the Site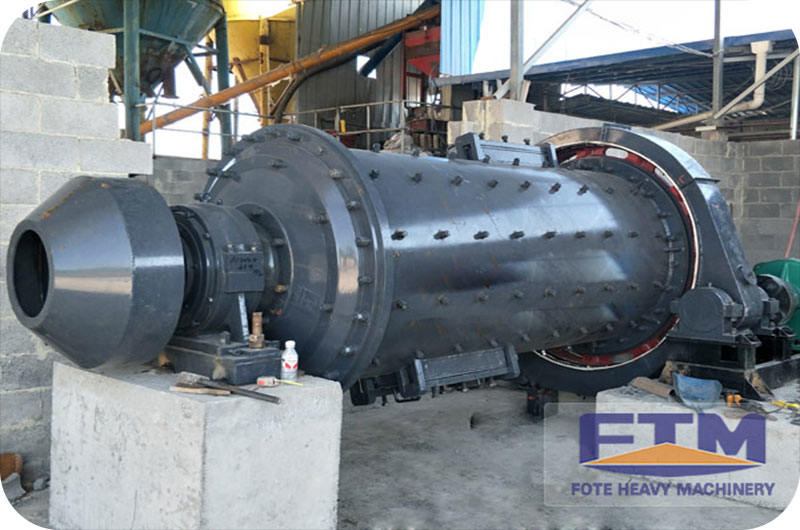 Managanese ore Ball Mill of 10tph
Ore beneficiation plant, also called ore extracting plant, separating plant, concentrating plant, refining plant, leaching plant, or mining plant, is the necessary part for every mining work of metallic ores.
For miners, they care about the cost and reliability of plant. Before describing the plant cost, let's see the manganese ore kinds first. According to the different kinds, FTM Machinery engineers adopt different ways.
Manganese Oxide Extracting Process
Manganese oxide ore is mainly found on the mineral deposites by weathering, and some on sedimentary and hydrothermal deposits. There are three kinds of manganese oxide, respectively called psilomelane, pyrolusite and manganite, etc.
The gangue is the silicates and carbonates mainly and often accompanying with the elements like iron, phosphorus, nickel and cobalt, etc.
The extraction process of manganese oxide gives priority to gravity separation. Weathered manganese oxide often contains a lot of mud and powder, so its refining work adopts the washing and gravity separation way.
The raw ore are washed first to remove mud off, then some can be directly used as concentrates, some needs to be dressed again by jigger and shaking table. During the washing process, some ores may overflow and they need to be further recycled by the methods of gravity separation or strong magnetic separation.

Gravity separation plant for manganese ore
To the sedimentary oxides, it is poor in concentrates. To get the lump concentrates, Fote Machinery engineers often adopt the methods of jigger gravity separation to get rid of gangue.
In the ferric manganese oxides, limonite contains. It is hard to separate limonite with manganese by the ways of gravity separation, flotation separation or strong magnetic separation. We need to use the way of roasting-magnetic separation and it has already been used for industrial applications.
Carbonate manganese ore Beneficiation Process
In the sedimentary carbonate manganese, the major ores are rhodochrosite, manganocalcite, manganese-bearing calcite and oligonite, etc and the gangue are silicates and carbonates, often accompanying with foreign matters like sulfur and iron elements.
This kind of manganese ore is general complex and concentrate size is measured by micron. So, leaching and concentrating work is difficult and it is hard to get rather higher level of concentrates.
Carbonate manganese ore mining process is rare to be found on mining area. But, it still exists. To process the sedimentary carbonate manganese ore, FTM engineers adopt the flotation separation, in order of carbonaceous shale, pyrite and manganese.
To the hydrothermal carbonate manganese ore accompanying with zinc and lead, engineers of FTM Machinery often adopt the method of flotation and strong magnetic separation. For some carbonate manganese with sulfur inside, engineers use the way of roasting to get rid of sulfur.
Elements like iron, sulfur or gangue in manganese oxide and carbonate manganese are hard to be extracted, since their size is very fine. Based on this situation, FTM engineers take the way of smelting.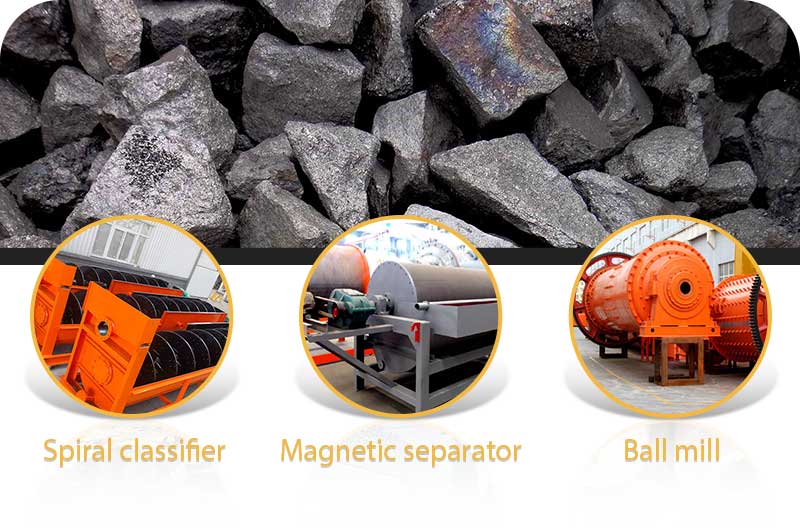 Manganese ore flotation machines
Back to the mining situation of oman customer, FTM engineers study it and make the following plan:
Manganese ore contains some iron inside. When the size of raw stone is smaller than 10mm, and magnetic field intensity is 915.61kA/m, the extracting effect will be the best.
In view of the recovering rate, FTM engineers decide to make the experiments of one-time separation and roughing cleaning and scavenging magnetic separation under the same magnetic field intensity.
In comparison with the one-time separation, magnetic separation is more effective in improving the recovery rate from 72.01% to 89.24%. Based on the experiments, FTM engineers design the manganese ore extracting plant as below.
The mined manganese ore is transported to field by trucks and the size is generally smaller than 350mm. Piled in the bin by loader, mined manganese ore are fed into jaw crusher by belt conveyor, then to vibrating screen for size screening with 0-10mm and >10mm.
To the ores with size of 0-10mm, they are conveyed to another bins, waiting for being dressed. For the remains with size larger than 10mm, they are conveyed back to jaw crusher for being crushed and screened again until the size meets the requirement for dressing work.
Through the hopper, 0-10mm crushed manganese ore enter into NO.1 magnetic separator and NO.2 magnetic separator. The extracted ore are transported to concentrates field by belt conveyor and the tailing is conveyed to NO.3 magnetic separator of DPMS-300mmX1800mm by belt conveyor for being extracted again. At last, concentrates are in concentrates field and tailing is in tailing field.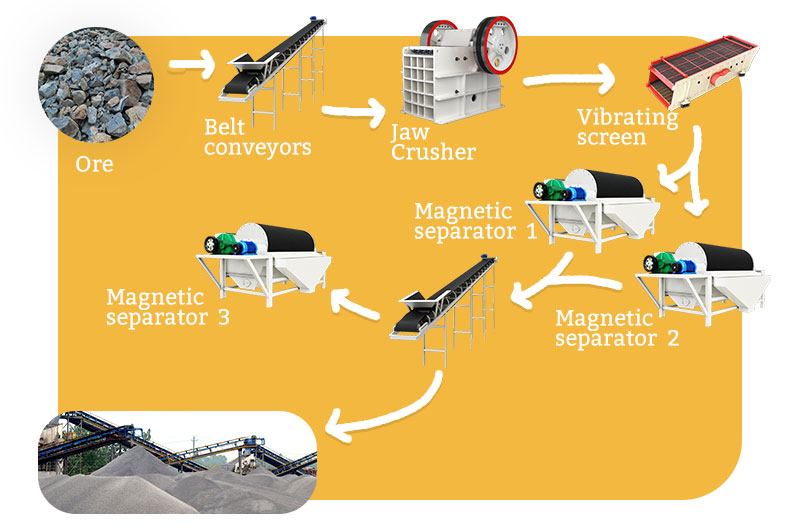 Manganese ore magnetic separation plant
Manganese Ore Leaching Plant Cost
The price of manganese ore leaching(beneficiation) plant scope varies from 900-95000 us dollars. The price is affected by the following factors like mining situation, demands of customers, machine model, raw ore elements, etc. Leave your demands on our website for the detailed Price quotation.